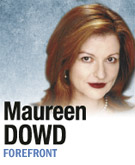 Talk about your misty watercolor memories. What's too painful to remember, we simply choose to forget. The bittersweet story of a preppie for whom things always came too easily and his noodging partner, pressuring with sky-high expectations until that final clash split them apart.
Has time rewritten every line? It's trying, big-time.
Yes, Robert Redford and Barbra Streisand met up on "Oprah" recently to talk about their 1973 turn in "The Way We Were" as the culture-crossed Hubbell and Katie.
But the more charged reunion was taking place in Dallas at the ground-breaking ceremony for the George W. Bush Presidential Center at Southern Methodist University.
After a period of estrangement, a happy W. and a gaunt Dick Cheney were reunited onstage.
"History is beginning to come around," Cheney said with satisfaction. After hailing W. as "classy," Vice acted unclassy. Demonstrating that Bush still cannot control Cheney, the former vice president defied W.'s promise not to mock President Obama.
"This may be the only shovel-ready project in America," Cheney noted sardonically, making fun of Obama's attempts to dig out from under the trillions of debt left by his predecessors.
Together again were the president and vice president who invaded, deregulated, overspent, created a climate of fear, and intensified the class divide with tax cuts.
"I wasn't a very good economic prognosticator," Bush told CNN's Candy Crowley. No kidding.
The pair fell out over the Scooter Libby pardon. Up until that point, Vice had been able to lead W. off various cliffs with faux deference and a good sense of which buttons to push. (W. would do anything to avoid getting labeled a wimp.)
Bush writes in his autobiography that when he told Scooter's old boss that the jury verdict should be respected, Dick stared at him intensely.
"I can't believe you're going to leave a soldier on the battlefield," Cheney said.
"The comment stung," Bush concedes. "In eight years, I had never seen Dick like this, or even close to this.
"I worried that the friendship we had built was about to be severely strained, at best."
In his book, Bush is respectful to Cheney. He doesn't even mention his vice president's near-deadly aim with a hunting rifle.
But it is telling that W. takes pains to paint his Vice as a mere supporting player, not the huge force for global domination that he was. This conscious diminution of Cheney makes the power struggle in that White House all the more apparent.
W. writes that he considered dropping Cheney from the ticket in 2004, but even that wasn't his own idea. Cheney diabolically suggested it, knowing the Dauphin would refuse.
On the "Today" show interview with Matt Lauer, Bush was asked by an audience member to name his most insightful adviser.
The chagrined ex-president tried to avoid the question at first. It was fascinating to watch the body language of the man who said his decision to invade Iraq relied more on body language than vigorous debate.
When W. did offer a list, Cheney did not immediately pop to mind. Hank Paulson was first. Then Condi, who elbowed Cheney aside. Then Colin Powell, Cheney's nemesis. Then Rummy, Cheney's mentor and partner in dark machinations. And then, finally, when W. could avoid it no longer, he mentioned Vice, damning with faint praise: "Dick Cheney's advice was consistent and strong."
He told Lauer he was motivated to run for president because of his father: "I wondered whether or not I had what it took to get in the arena like he did." And he writes that one of the motivating factors for sacking Saddam was that the Butcher of Baghdad tried to assassinate his dad.
And yet, despite his father being the measuring stick and prod, he did not keep the former president and foreign affairs expert in the loop on Iraq.
As Barbra sang on "Oprah": If we had the chance to do it all again, tell me would we? Could we?•
____________
Winner of the 1999 Pulitzer Prize for distinguished commentary, Dowd became a columnist on The New York Times' Op-Ed page after serving as a correspondent in the paper's Washington bureau. She has covered four presidential campaigns and served as White House correspondent.•
 
Please enable JavaScript to view this content.