Neighbors call it the Miracle on Dorman.
A startup brewery called Flat 12 Bierwerks has ignited a revival along lonely Dorman Street in Holy Cross, one of the city's oldest neighborhoods.
Three co-founders are spending about $2 million to renovate an old industrial building and outfit it with high-tech brewery and bottling equipment and a chic tasting room.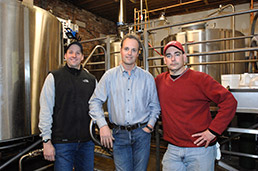 From left, owners of Flat 12 Bierwerks: Sean P. O'Connor, Steve Hershberger and Rob Caputo. The city's newest brewery is taking shape in a Holy Cross warehouse. (IBJ Photo/ Perry Reichanadter)
Plans call for a community garden next to the brewery—managed in partnership with local produce specialist Green B.E.A.N. Delivery—that would allow the brewery to grow some of its own hops and spices such as coriander and cinnamon.
And across the street, inspired in part by the brewery, indie grocer Goose the Market is planning a smokehouse and a retail outpost to complement its popular shop at 25th and Delaware streets.
The story of breweries helping revitalize neighborhoods is repeating itself all over Indianapolis—a city, it's worth noting, that once boasted dozens of independent breweries before Budweiser and the like established a stranglehold.
Flat 12 follows in the footsteps of upstart Sun King and at least three others that plan to launch in 2011: Triton Brewing Co., Bier Brewery & Taproom and Thr3e Wise Men Brewing Co. In-state powerhouses Upland and Bloomington Brewing Co. also are expanding.
The brewers contend there's plenty room for new breweries to thrive, and the numbers seem to back it up.
Craft brews make up only about 1.25 percent of the beer sold in Indiana, lagging a national average of about 5 percent. In Oregon, craft beer makes up about 20 percent of beer sold, and in Colorado and California, the proportion stands at 10 percent.
"There's plenty of space for everyone to thrive," said Sean O'Connor, a Flat 12 co-founder and its CEO.
But success is no sure thing for a startup brewery.
Making it in the craft-beer space requires a formula of a great story, great products and access to the market, said Mark Hellendrung, CEO of Rhode Island's Narrangansett Brewing Co.
"With all the choices out there, you have to be strong and specific with your messaging to differentiate," he said, noting that the most successful craft brewers wind up with a flagship brew (Harpoon's IPA, Shiner's Bock, New Belgium's Fat Tire).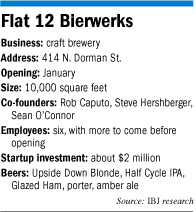 Hellendrung bought the 120-year-old Narrangansett brand—which once held a 65-percent market share in New England—about five years ago. He tracked down the old recipe for the brewery's signature beer and also relaunched a line of craft beers.
He figures Boston Beer Co. CEO Jim Koch is on target with a prediction that craft beer could someday attain a 20-percent share nationally.
His advice to startups: "Start small, stay small, focus on the bars, and feel the real connection with consumers."
That sounds a lot like the game plan for Flat 12.
"First, we want to be a really good brewery in Indianapolis," said O'Connor, an Indianapolis native who fell in love with craft beer while living in Europe. "As we have opportunities to grow, we want to retain a very local presence."
The plan is to produce five beers to offer at bars and package stores and seven beers exclusive to the tasting room. The first round of offerings include a winter seasonal called Glazed Ham, an India Pale Ale called Half Cycle, an Upside Down Blonde, and a porter and amber ale still in search of clever names. Growlers will go for $12 and refills will be $8.
The founders—O'Connor, Steve Hershberger and Rob Caputo—are funding the venture with their own money, investments from a handful of private investors, and a loan from Fort Wayne-based Star Financial Bank.
O'Connor and Hershberger met each other as board members of the ATO fraternity at IU and were introduced to Capto, a longtime home brewer, through a friend.
They named the brewery for an engine in a nod to the city's motorsports heritage.
The building was constructed in at least three phases, starting in the 1930s with a section—set to become a tasting room—that features a wood-frame-supported ceiling and an exposed brick wall. Additions were built in the mid-1950s and early 1960s. The building was home to a wood furniture manufacturer, a distributor, and most recently, a squatter.
The brewery will have capacity to produce 3,000 barrels (6,000 kegs) in its first year. It can be scaled up quickly to produce as many as 30,000 barrels, and there's room for an expansion that could triple the output.
That could take a while.
It took 21 years for Kansas City-based Boulevard Brewing Co., the nation's ninth-largest craft brewer, to reach 150,000 barrels per year. And starting from scratch today is more daunting, said Bob Sullivan, the brewery's chief sales and marketing officer.
Local breweries will have an advantage provided they produce products as good as the market leaders in craft beer—including Boston Beer Co., Colorado's New Belgium and Michigan's Bell's, and extra points for "gateway beers" with flavors that are palatable to drinkers more familiar with Bud and Coors, he said.
The question is whether local breweries can collectively drive more consumers to buy craft beer. After all, most of the craft beer sold in Indiana is not made in Indiana.
"You immediately have an advantage being local, and people want to support the local guy, but if the beer isn't as good, they're not forgiving," Sullivan said. "That's the challenge."
Boulevard, by the way, began selling its lineup of brews in Indiana this year. The best-seller is a sampler pack.•
Please enable JavaScript to view this content.