Rarely in the discussion of restaurants does the subject of busing come up. I'm not talking about integrating schools nor problems with IndyGo. I'm talking about the act of clearing tables of their dining debris.
It seems like a simple thing. But, in my experience, cafeterias and buffets don't usually pay enough attention to this element of the overall eating experience. For me, though, it's a deal breaker. If I see long-abandoned plates, cups, tossed napkins and half-eaten desserts on tables, my appetite diminishes as does my desire to return.
Jonathan Byrd's Cafeteria (100 Byrd Way, Greenwood, 881-8888) is an exception. On my most recent visit to its Norman Rockwell-bedecked dining room, there were no signs of its previous lunch inhabitants. Tables were restored to their clean state almost immediately after the patrons headed for the cashier to check out.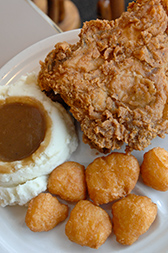 Fried chicken and homey sides are staples at Jonathan Byrd's Cafeteria. (IBJ Photo/ Perry Reichanadter)
Which brings me to another Jonathan Byrd's plus: Rather than having to pay at the end of the line while your tray is freshly piled, here you get a check and meet your financial obligation when you are done dining. This allows you to decide later whether to go back for dessert without having to pay a second time. All to the good.
Speaking of desserts, Byrd's has a big parade of impossible-to-resist pies ($1.99 for most, including Oreo Pie) and Jello creations (yum to the $1.59 Mountain Mist). But I'm getting ahead of myself.
For main courses, we went for a Turkey Pot Pie ($5.59) with a delicious crust and densely packed filling. The fowl was harder to find in the comforting Chicken Noodles ($4.49), which featured plenty of hearty pasta but only minimal shredded poultry. Continuing with the theme, we knew of the reputation of JB's Signature Fried Chicken (two white-meat pieces went for $5.29), and while the meat itself was a little dry, the seasoned skin was delicious. For sides, we expected more from the Mashed Potatoes (but, for $1.59, maybe we shouldn't have) and took spicy pleasure in the deep-fried Corn Nuggets ($1.99). A misleading sign behind the counter indicates a discounted "Ginny Plate," featuring an entrée and two sides for a discounted price. This actually is only offered for a limited number of dishes and features reduced portions.
While some of the dishes are staples, many of the items go through a daily rotation. If you want the Salmon Patties with Pea Sauce, for instance, you'd better go on Friday—at least for now, since a new menu comes out in January.
Our check came with encouragement to "Praise the Lord." No matter what your faith, after a trip to Jonathan Byrd's, you may find yourself praising the pie.•
—Lou Harry
__________
Last in a month-long series of fine-feathered restaurants. Next week: The year in dining.
Please enable JavaScript to view this content.