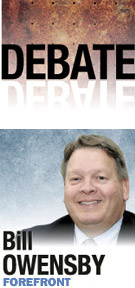 Question: How should the Indianapolis Metropolitan Police Department be fixed?
Answer: When I was asked to write a response to the question for this column, I wanted to scream, "IT'S NOT BROKEN!"
OK, I will admit to a little bias. I've spent my adult life working for IPD and IMPD as a civilian and a sworn officer. I've bled for this community, cried for peers and friends as they are laid to rest, and endured the rough spots we have gone through as a department.
I'm not alone by a long shot. Every day, there are stories that aren't told about the heroism our men and women display, and the unselfish acts they perform for our community. I know them; you may not.
That may lead to a perception that seems prominent in the last few months that we are a broken department full of bad officers and that we are in desperate need of a savior. Nothing could be further from the truth.
Let's get the big elephant out of the room first. Do we have discipline issues? Darn right, we do. Find me an organization of 1,700 men and women that doesn't. You won't find a profession that doesn't have a few bad apples. I guess that would beg the question, "Well then, what do you do with them when you find them?"
I can tell you this, and I can prove it—in IMPD, when we encounter an officer who makes an overt decision to commit a felony, we prosecute them, fire them or both.
As spokesperson for the organization representing nearly all of Marion County's law enforcement community, I wholeheartedly support that position. I've said it many times: No one wants a bad officer in their ranks—not the community, and not the officers who work alongside them.
IBJ.COM EXTRA
Click here
to read Frank Straub's viewpoint on this question.
I've looked at discipline administered or requested from 30 days' suspension to termination since the merger of the Indianapolis Police Department and the Marion County Sheriff's Office in 2007. Here are the results:
In 2007, there were six cases of discipline on record, with one resulting in termination and the others resulting in various amounts of suspension without pay.
In 2008, there were 13 cases of discipline on record, nine of which resulted in termination or resignation, and several pending criminal cases.
In 2009, there were 11 cases of discipline on record, with three resulting in termination, resignation or retirement.
In 2010, there have been eight cases of discipline on record, with the results pending for many of those. There have been four cases resulting in termination or resignation.
Granted, when you have a high-profile case like we have had this year, the magnifying glass is on you, which in my opinion leads to the misconception that we are broken.
We are doing many things right. In 2007, a program was developed by then-Chief Michael Spears and Lt. Rick Snyder that was dubbed Career and Leadership Development. The philosophy of the program in the simplest terms is to build leaders, not just supervisors.
In three years, the program has gained international recognition for its advanced "next practices" training. The program also has dealt with the promotional process and performance management, and developed a master patrolman/master detective designation.
IMPD is also developing another trailblazing approach to excellence. Capt. Brian Nanavaty has developed a program designed to examine officers who have experienced more than one or two minor rules violations and work one-on-one with them in a mentoring capacity to make them productive employees again. He deals with root issues, ethics, and rules and regulations, and concentrates on the real meaning of discipline, which is not to punish, but to correct behavior.
We are doing things right, and doing the right things. The FOP stands ready to move forward, and improve on what is a fine, professional organization. What's our next step? Renewed dialogue with the mayor.•
____________
Owensby is president of the Fraternal Order of Police Lodge 86 in Indianapolis, and has worked the mayor's security detail, among other positions. Send comments on this column to ibjedit@ibj.com.
Please enable JavaScript to view this content.