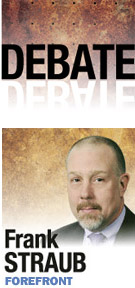 Question: How should the Indianapolis Metropolitan Police Department be fixed?
Answer: Earlier this year, the city was challenged by a surge in homicides. We responded with a "surge" of our own, deploying talented, dedicated police officers and detectives to crime hot spots.
Because of their hard work, we experienced the lowest number of criminal homicides in more than 20 years during June, July and August. In November, we had only one criminal homicide. And as we close out 2010, we are on pace to have the lowest number of criminal homicides in almost two decades.
A few weeks ago, two of our police officers saved the life of a woman trapped in her car as it sank in a retention pond. During the past 11 months, our police officers were shot at while protecting us from bank robbers, drug dealers and other criminals. An officer rescued a man from a bridge as he contemplated suicide, another officer rescued a 5-year-old autistic child from a pond, and a sergeant repaired doors or windows damaged during burglaries.
These brave and selfless acts define the men and women of the Indianapolis Metropolitan Police Department.
Unfortunately, the conduct of a small group of police officers has eroded the public's trust and confidence in IMPD. We must address this conduct, as well as the organizational deficiencies that allowed it. We owe it to the Indianapolis community and to our police officers.
On Labor Day, Mayor Ballard announced strategies to promote integrity and accountability, and to restore the public's trust. As we move forward, we are challenging our basic assumptions, scrutinizing the way we've always done things, dropping outdated approaches, embracing innovation, and committing to a culture of continuous improvement. To that end:
• We expanded the Professional Standards Division's authority to include all public safety divisions and increased their staff and resources.
• A public safety department-wide zero tolerance alcohol policy becomes effective Jan. 1.
• All IMPD general orders are being reviewed to ensure they reflect the best practices of the police profession.
• We are re-engineering recruitment and hiring to attract the best and brightest candidates and to increase diversity.
• We are re-engineering our performance appraisal and career development practices to identify and prepare the next generation of police leaders.
IBJ.COM EXTRA
Click here
to read Bill Owensby's viewpoint on this question.
• We expanded new sergeant training from two days to two weeks.
• Eight hours of in-service training, recently completed by every officer, included new presentations on incident command, the employee assistance program and community diversity.
• IMPD officers and community members will travel to police academies to identify best practices and innovative training methods.
• All public safety command-level personnel completed an eight-week leadership program.
• Six IMPD commanders attended the Police Executive Research Forum's Senior Management Institute for Police, and additional commanders will attend in 2011.
• We established a bipartisan Public Safety Reform Commission to ensure community participation.
• We are strengthening and expanding programs to reduce youth violence and improve youth-police relations.
• We are expanding outreach to faith-based and community groups to engage them in crime reduction activities.
The men and women of IMPD are committed to a police culture that is grounded in integrity and accountability, celebrates diversity, and continuously strives to deliver the highest level of public service.
We will forge ahead and push through uncertainty with creativity and innovation. We will restore the public's trust and confidence. And I hope as we begin 2011, the FOP will participate in the re-engineering process and our efforts to become the best major city police department in the country.•
____________
Straub is Indianapolis public safety director, and previously served as public safety commissioner of White Plains, N.Y. Send comments on this column to ibjedit@ibj.com.
Please enable JavaScript to view this content.