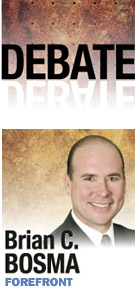 Question: What should be done to attract more young professionals to Indiana?
Answer: In the 1989 movie "Field of Dreams," Kevin Costner hears the mantra, "If you build it, he will come." This mantra is played often in local economic development efforts as well—if you attract new employers to your area, young, college-educated professionals will come—and stay. In today's knowledge-based world, however, the tables have turned.
The availability of a talented innovative work force is now as important as low taxes, energy costs and location when entrepreneurs make job-location decisions. So how do we attract and retain this much-desired young work force of the next decade—the work force of 2020? The answers may require a change in Hoosier mind-set.
According to a recent Lumina Foundation report, 63 percent of all jobs will require some form of postsecondary education by 2018. This stands in stark contrast to Indiana's ranking as 44th in the nation in the percentage of adults with college degrees. Only 34 percent of Hoosier adults have a two-year degree or better— hardly an attractive statistic for new high-tech employers.
While we must do our best to attract young professionals to Indiana, our top goal must be to improve the work force already in place.
The first step is by dramatically increasing our emphasis on and expectations for public and private education in our state. We can no longer afford to have one-quarter of Hoosier students leave high school without a diploma. Together, we must provide a demanding education experience for every Hoosier and raise the expectation that our students will achieve.
We must also renew our emphasis on science, math and technology to train tomorrow's work force and attract tomorrow's employers. If we are to build the work force of the next generation, science and math must be at the core of Indiana's 2020 landscape from elementary classrooms through doctoral programs.
Families, teachers and administrators must be given every available tool to create innovative, accountable learning experiences to train the workers of the next decade. To get there, options must be plentiful. Charter schools, magnet schools, virtual learning, dual credit experiences, teacher incentives and school choice scholarships for those in the toughest circumstances must all be in place and running strong for Indiana's 2020 work force to succeed.
IBJ.COM EXTRA
Click here
to read Pat Bauer's viewpoint on this question.
We must also leverage one of our state's strongest resources—our higher education system—especially our flagship research institutions. Key collaborative efforts, like IU's and Purdue's Indiana Innovation Alliance, which seeks to combine the strengths of both institutions in the areas of life sciences, bioenergy and medical research, can lead the way to a revitalized and strengthened economic future for young Hoosier workers.
Each of our public and private higher education institutions must focus its efforts not only on educating tomorrow's earners, but also preparing them for a high-tech, innovative Indiana focused on advanced manufacturing, life sciences, biotechnology, logistics, alternative energy and advanced information systems.
One of my greatest experiences in two decades of public service has been the opportunity to work with hundreds of energetic, enthusiastic and innovative young people, many at the start of their professional careers. Making it possible for these dreams to be fulfilled right here in Indiana—and thus retaining tomorrow's high-value employees—is the key to our region's future.
The challenges of 2020 are clear—but so are the opportunities. With vision, dedication and leadership, we can make Indiana the place to be—for this generation, and the next.•
____________
Bosma is speaker of the Indiana House of Representatives and a partner in law firm Kroger Gardis & Regas. Send comments on this column to ibjedit@ibj.com.
Please enable JavaScript to view this content.