Six local programs that provide transit to job-seekers and the elderly are sharing $555,937 from the Federal Transit Administration's Job Access and Reverse Commute and New Freedom programs.
The largest share—$183,525—went to the Central Indiana Council on Aging to support transportation vouchers for elderly disabled people in eight counties.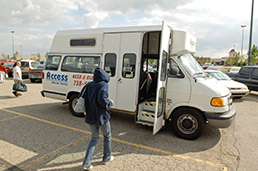 Johnson County's bus service was among local systems sharing a federal grant to help workers. (IBJ file photo)
Access Johnson County, meanwhile, received $133,282 for its employment connector service and taxi voucher program.
Another of the larger grants—$89,093—went to the Pathway to Future Learning Center. It operates a transportation program for low-income people to access job training and employment.
In the Indianapolis area, the funds are administered and dispersed by local transit operator IndyGo, which on Feb. 14 will make available at Indygo.net application forms for the next round of projects seeking federal funding.•
Please enable JavaScript to view this content.