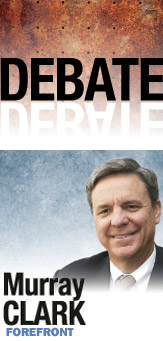 Question: Describe the kind of governor Indiana will need after Mitch Daniels leaves office.
Answer: Ask a room full of Hoosiers why Mitch Daniels has been so successful as governor, and you're bound to get a variety of answers. "He thinks outside the box." "He's a businessman who runs the state like a company." "He knows how to explain his policies well to Hoosiers." "He's a numbers guy who understands budgeting better than anyone." "He knows real economic growth comes from the private sector, and its growth shouldn't be impeded by government."
While all of those are true statements about Daniels, each could conceivably apply to unsuccessful governors as well. After all, thinking outside the box can breed bad policy. Explaining bad policy well to voters doesn't magically make it good policy. And economic growth can derive just as much from factors well out of the government's control.
I submit to you that while each of those qualities may have enhanced the positive achievements our state has enjoyed under Daniels' tenure, the root of his success can be boiled down to an adherence to three simple concepts: lower taxes, a smaller government and more personal freedom.
A look back at some of the landmark accomplishments of the Daniels administration bears this point out. His Major Moves package allowed our state to fully fund a decade's worth of transportation projects without adding new tax burden on Hoosiers. His quest to make state government more customer-service-oriented led to streamlining and efficiencies that ultimately reduced the size of government to a level we haven't seen in nearly 30 years—even while improving response times and customer satisfaction. And his desire to give individuals and businesses the freedom to prosper by decreasing regulation has led to unprecedented growth of infrastructure (think broadband), a diversified economic base (think life sciences), and numerous jobs announcements (think of our nation-leading 2010 private-sector job growth).
 
IBJ.COM EXTRA
Click here
to read Dan Parker's viewpoint on this question.
Perhaps more noteworthy, these principles have also guided his approach to the state budget in this time of national recession.
In times of prosperity, it's easy to take a concept like balancing the budget for granted. But as we've seen in so many other states as of late, failure to do so often results in tax increases, major disruptions of government service, and lost jobs. Indiana has largely avoided these consequences precisely because Daniels has been laser-focused on these three principles.
Certainly, outside factors often play a role in shaping the successes and failures of any leader. Just as important, however, is how that leader responds. The national economy has made the job tougher in Daniels' second term than it was in his first, and would have made it easy to stray from those core tenets. But rather than waver, he has been resolute in his advocacy that the only way forward is with lower taxes, smaller government and more personal freedom. The results have made Indiana a model for the nation in many regards.
The next governor will have big shoes to fill, to be sure, and it's impossible to predict what factors may shape his or her term. When dealing with the issues to come, it matters little whether that person thinks outside the box or in a defined space; is plain-spoken or elegant with the tongue; is from the corporate world or the public sphere. Such things may help or hurt on the campaign trail, but nothing will help more in office than a personal philosophy of governing that mirrors the three values I have discussed. They've brought our state and individual leaders continued success in the past, and I suspect they'll bring the same to those who abide by them in the future. •
____________
Clark is former chairman of the Indiana Republican Party and chaired Mitch Daniels' first campaign for governor. Send comments on this column to [email protected].
Please enable JavaScript to view this content.