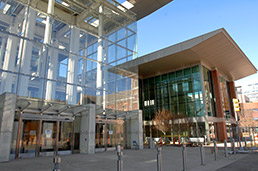 Indiana Convention Center. (IBJ Photo/ Perry Reichanadter)
With the Indiana Convention Center expansion built and set to open Jan. 20, one major question remains.

Will enough conventions, trade shows and corporate meetings come here to make the big-dollar investment pay off?

The answer to that question will dramatically affect the finances of the city's Capital Improvement Board, Indianapolis Convention and Visitors Association, downtown hotels, local transportation companies, and numerous restaurants and entertainment outlets.

"You can make all the projections you want, but you can't predict everything in this arena with absolute certainty," said Heywood Sanders, a University of Texas at San Antonio professor and author of several studies on convention centers. "With a project like this, it's always a bit of a roll of the dice."

With a still-struggling economy, greatly intensified competition among convention cities, and the recently announced departure of ICVA CEO Don Welsh for Chicago, the odds seem stacked against Indianapolis.

But local convention and tourism officials say Indianapolis has an ace in the hole.
IBJ.COM EXTRA
Click here
to see a gallery of photos of the recent expansion.
"Now we have a convention center and hotel set-up, airport and downtown that few cities in this nation can match," said Warren Wilkinson, ICVA senior vice president of marketing. "Sure there's pressure. But all the pieces are in place here. It's game on."

And it's not just local tourism and city officials feeling optimistic.

"With its recent developments, Indianapolis, really for the first time, is on the radar screen of meeting planners nationally, even internationally," said Dirk Ebener, CEO of Atlanta-based NuernbergMesse North America, which represents more than 100 trade shows globally. "Because of its complete package—the new airport, convention center expansion and JW Marriott—it's become a real contender."

High-stakes gamble

This is no penny-ante game. The stakes are high and the risks—for local officials and taxpayers—are real.

The city and state have already wagered $275 million in construction costs that the Convention Center expansion will pay off. The ICVA, which gets 70 percent of its nearly $14 million annual budget from CIB, has put several million more on the table to boost the marketing budget and over the years will add millions more in promotion and increased staffing. ICVA officials said their 59-person staff will need to grow to around 70 to effectively market the expanded space and serve a growing client base.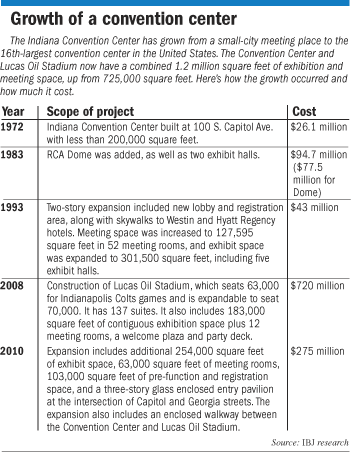 Operating expenses will also rise. The Convention Center operational expenses are projected to increase from $6 million in 2010 to $11 million in 2011. CIB, which owns the Convention Center, anted up another $2.6 million for upgrades to the old convention space so it will match the addition.

The bulk of the cost of the expansion was financed by the state's sale of interest-bearing bonds. The money to pay off those bonds and some of the operational expenses comes from a stew of taxes on hotel rooms, meals and rental vehicles.

The number of hotel rooms sold directly drives hotel tax revenue and is a key indicator of what will come in from the other so-called visitor taxes, said ICVA Chief Financial Officer James Wallis.

From the mid 1990s to 2008, the city booked about 500,000 room nights annually. The ICVA ramped up sales efforts and booked about 650,000 hotel room nights in 2009 and 2010. The goal this year is 725,000 on the way to 850,000 by 2015, Wallis said.

So far, tax collections are coming in ahead of projections. Late last year, New York-based Fitch Ratings gave the bonds that will pay off the Indiana Convention Center and $725 million Lucas Oil Stadium its highest rating due to the relative financial stability here and the level of designated taxes coming in.

But there are signs of a slowdown.

From August 2005 to March 2009, total tax collections to pay for the convention center expansion and Lucas Oil Stadium were $141.8 million, or 5.7 percent ahead of projections, according to the Indiana Finance Authority.

When the period is extended to December 2010, collections were $222.4 million, or just 2.2 percent ahead of projections.

If revenue is not sufficient to pay the bonds, which are due to be paid off in 2039, a state appropriation would be needed to make up the shortfall.

As the economy fluctuates and the competitive landscape for convention and leisure travel changes, that tax revenue is anything but assured, said University of Notre Dame economist Richard Sheehan.

This year, The Harris County-Houston Sports Authority, the builder of three sports stadiums and meeting space, could default on some of its $988 million of debt as early as March, according to calculations by Moody's Investors Service.

Houston's problems reflect not only the Houston agency's faulty debt structure, but also the stress on sports and tourism-related projects nationally due to falling hotel occupancy and car-rental use, Moody's concluded.

Fitch bond analyst Arlene Bohner said the prospects of a rebounding economy and Indianapolis' convention business growth potential is enough to maintain a high rating for the local bonds.

A jackpot awaits

Though the risk is considerable, so is the potential payoff, say ICVA and CIB officials.

A study commissioned by the ICVA in 2006 showed tourism and convention business accounted for a $3.6 billion local economic impact and supports 66,000 jobs. Local convention experts think that could increase more than 20 percent by 2015.

Already, several notable events have been retained or lured to the city due to the expansion, ICVA officials said. For instance, the FFA national convention, which attracts 55,000 visitors accounting for $30 million in visitor spending annually, committed to stay in Indianapolis through 2012 and return in 2016 as part of a two-city rotation with Louisville, which will host the convention from 2013-2015. Also returning is the Seattle-based Gen Con convention, which attracts 30,000 gamers who spend an estimated $26 million in central Indiana annually.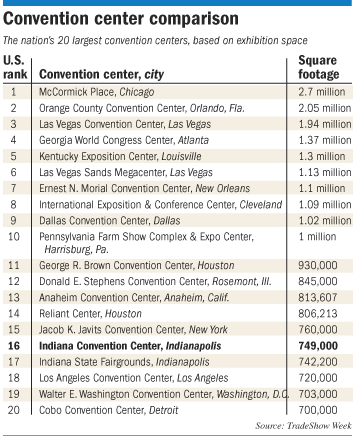 The Custom Electronic Design & Installation Association's Fall Expo departed in 2005 due to space constraints, but is coming back in 2011 and 2012. CEDIA attracts 25,000 attendees who spend an estimated $27.4 million.

Groups have decided to stay or come back in part because the expansion alleviates space constraints.

Nearly 350,000 square feet of exhibit space was added to the Indiana Convention Center, pushing it from 32nd largest in the United States to 16th. The facility now has 749,000 square feet of exhibit space, when including 183,000 square feet of exhibit space at Lucas Oil Stadium, which is connected to the convention center but about a quarter mile south. Both facilities combined have a total of 1.2 million square feet of space.

And the 1,005-room JW Marriott, set to open Feb. 4 on the west edge of downtown, gives the city the large convention-headquarters-caliber hotel many meeting planners had been seeking, ICVA officials said.

In terms of size alone, the Indiana Convention Center is still no match for the 2.7-million-square-foot McCormick Center in Chicago or 2-million-square-foot Orange County Convention Center in Orlando. But it pushes Indianapolis into direct competition with other so-called Tier I convention cities, such as Denver, New Orleans and San Diego.

"They're no longer competing on a regional stage," said Mark Eble, a hotel consultant and Midwest regional vice president for San Francisco-based PKF Consulting Corp. "Now they're competing on a national level. With that comes a great deal of opportunity, and I suppose a certain amount of pressure to perform."

Everyone wants to play

Indianapolis' competitors aren't standing still.

In April, the San Diego Convention Center unveiled plans for a $753 million expansion as the city works to keep its status as one of the premier U.S. convention cities. The Phoenix Convention Center recently underwent a $600 million expansion that nearly tripled its exhibit space to 880,000 square feet. Denver's Colorado Convention Center is the benefactor of a recent $310 million upgrade.

Convention centers in Atlanta, Orlando, Chicago, Philadelphia, Louisville, Las Vegas and New Orleans have also recently completed or are planning expansions.

U.S. convention space has grown from 40.4 million square feet in 1990 to more than 72 million square feet in 2010, according to industry publication Tradeshow Week.

To make matters worse, many of the nation's biggest convention centers have resorted to literally giving convention space away.

"The rationale is that visitor spending and taxes generated from things like hotels and meals will more than make up for the cost of the convention center space," said Sanders, the University of Texas at San Antonio professor.

Local officials continue to charge 95 cents per square foot for the Indiana Convention Center, though that rate is negotiable.

Convention planners said Indianapolis' rental rate is on the high side, and pointed out that cities like Cincinnati and Orlando openly advertise free convention center rental if a certain number of hotel rooms are booked or number of convention delegates comes to town.

CIB and ICVA officials think that revenue stream is important to help pay for the center's operations budget.

Despite the challenges, city officials remain optimistic.

"We started looking at all the financials of this more than three years ago," said CIB President Ann Lathrop. "We tried to be strategic, thoughtful and forward-looking. So there have been no surprises. With regard to feedback we've gotten from meeting planners, I'm extremely optimistic about the success of this expansion."

ICVA officials said they're ready to compete.

"We present a total package," Wilkinson said. "We think when you compare this city's hotel rates; the compact nature of the city, which reduces transportation costs; and other factors, we have a very compelling and competitive package to offer."

Affordability is at the top of the list of any convention operator, said Susan Becker, program manager for Indianapolis-based meeting and convention planning firm, Virtual Meeting Strategies. She said it can cost a major convention more than $250,000 in transportation costs in cities such as Dallas and Chicago, where the convention center is not in close proximity to a large number of hotel rooms.

Connectivity may be one of Indianapolis' biggest selling points. No city has more hotel rooms—4,700—connected to its convention center via indoor walkways.

"That's a huge selling point," Becker said. "Especially if you have any concerns about the weather. And the connection to the downtown mall is another important factor that shouldn't be overlooked."

Still, there are numerous meeting planners and convention organizers who have either never been to Indianapolis or have not been here since the new airport, Lucas Oil Stadium and the Convention Center expansion were completed, said Jay Gladden, dean of the IU School of Physical Education and Tourism Management Department at IUPUI.

"With all the upgrades the city has made, the city will have to be more—not less—aggressive in marketing itself as a convention destination," Gladden said. "The greatest challenge will be changing people's ideas about the city and getting them here to experience Indianapolis."•