I've never been to an ugly-Christmas-sweater party. But judging by photos I've seen on Facebook, they're all the rage, not to mention pretty hilarious with everyone standing around holding their eggnog or cocoa looking equal parts cozy and ridiculous in their reindeer and snowmen knits.
To these partiers and to most everyone else, a Christmas-themed sweater—think dimensional Santa beard—is a joke.
But to Jared Ingold of the T-shirt brand Vardagen, it's all business.
This holiday season, Ingold, 27, sold roughly 1,600 T-shirts screen printed to look like Christmas sweaters. More than $35,000 in sales isn't bad for a shirt he planned to offer for only two days after he wore one to his own Christmas-sweater party. Now he's drawing up a plan to sustain the online T-shirt brand.
Vardagen, Swedish for everyday, began four years ago as a sort of hobby, when Ingold was doing free-lance Web design.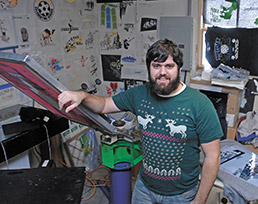 Jared Ingold of Vardagen hopes to find a location downtown. (IBJ Photo/ Perry Reichanadter)
"I hated [Web] because the projects were never finished," he said.
A self-taught screen printer and graphic artist, he started the brand out of his garage as a way to exercise his artistic muscles. When other companies asked him to design their shirts, he realized his brand would soon turn into just another name in T-shirt printing.
To preserve the Vardagen brand, he started The Art Press two years later to take care of outside clients. The Art Press accounted for about $165,000 of Ingold's $200,000 in sales last year.
Ingold describes The Art Press as something that "just pays the bills" (with some 400 clients, including Nestle and Butler University), but the handmade, back-lit vinyl sign facing Interstate 465 near 75th Street and Shadeland Avenue suggests otherwise; there's clearly an artist lurking in Ingold's small office above a State Farm insurance branch.
A giant moose head made of cardboard and an old fur coat hang on the wall over a 1960s record player console in his office. I picked up a corncob pipe lying on the coffee table as we chatted and asked Ingold if he smokes it.
"No," he chuckled. "I'm not sure where that came from."
It's just another prop, apparently, that makes his bland, rented space a chamber of inspiration for his true passion: Vardagen.
The Art Press, which is advertised only on Google Maps, is doing so well he barely has time to stock the popular Vardagen brand. Of the 10 designs offered on Vardagen's website, only three aren't sold out.
With one full-time employee and an intern, Ingold said some days business is going so well he can't keep up with it.
One of those days was in early December, when a friend in New York City dropped off an ugly sweater T-shirt at the office of one of Ingold's favorite blogs, swiss-miss.com. Vardagen was featured on the site that very day and the shirt went viral.
Since then, he's received orders for the shirt (available in moose, deer and snowman designs) from 27 countries and has shipped to Google and Tumblr headquarters.
Orders for the sweater T-shirts have slowed since the end of the holidays, and now he's figuring out what's next. I was kind of hoping he'd whip up a few more of the "hamburger" shirts that are sold out on vardagen.com, but Ingold's focus these days is beefing up local awareness.
"People all over the world know about Vardagen," he said. "Now I'd like more people in Indianapolis to get excited about it."
To help with that, he's looking for a workspace downtown. In the meantime, you can find his designs at Indy Swank in Fountain Square, Rag-o-Rama in Broad Ripple and Homespun in Irvington.•
__________
If you'd like to share your own style ideas or know anyone who's making waves in the fashion community, contact Poshadlo at gposhadlo@ibj.com. This column appears monthly.
 
Please enable JavaScript to view this content.