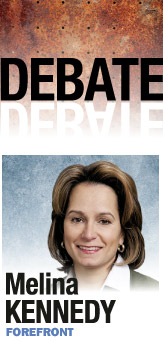 Question: Why would you make a better mayor than your Democratic opponent?
Answer: The races in which I took part as a competitive runner were at a distance that worked for me because they required discipline, stamina and vision. I wasn't a sprinter then, and now, my competitive running days behind me, I am in for the long haul in the race to become the next mayor of Indianapolis. A vital part of that process requires me and the other contestants in this important race to articulate our reasons for running and what we believe qualifies us.
I offer three reasons for my candidacy. First, after spending a long time listening to our neighbors and studying the issues, I am convinced this is a critical time in the city's history of leadership. Over the past several decades, our city has been built on a great foundation of leaders in government, business and the community. And while that foundation is solid in many respects, it is showing cracks that need attention.
The unemployment rate tops 9 percent, efforts at crime reduction haven't made most citizens safer in reality or perception, and even with recent gains, the present graduation rate in public education cannot sustain our city's future.
Most recently, the failure of the top public safety leadership and of the current mayor to be and act in charge has created a crisis in confidence in the community. People who think they can make a difference should step up to the plate, and my candidacy is an effort to do that to move our city forward.
Second, I am all in for Indianapolis. I am raising my children here. My husband and I started our small business here. I already have a record of public and community service in Indianapolis that I believe demonstrates the depth and breadth of my commitment to economic development, neighborhoods and those in need.
As former deputy mayor of economic development, I learned firsthand what government can do to make a difference in tackling serious problems, as well as when government needs to step back and let the private sector work. I have worked to bring labor and business leaders together to grow jobs. And I have worked to try to end the cycle of domestic violence for victims and their children.
Those commitments will remain in my life whether or not I am elected mayor in 2011. But I am dedicated to try to have a hand in the leadership that makes my kids and yours want to grow their families here in future years, too.
Finally, I am committed to running a credible, issues-based campaign that can and will succeed. We will approach the election with the humility that befits the important decision we ask the voters to make. Even as I take the issues and challenges we face seriously, I promise not to take myself too seriously—I want to keep the focus where it should be: you, your families, your future. But I also want you to know that we won't be outworked, we won't shrink from any challenge, and we will raise the resources necessary to get our message out.
And above all, I will continue to listen to the needs, hopes and ideas of residents across the city. That diversity of ideas, opinion and people will help define my campaign.
It is often said that elections are about the future, and I completely agree. On Nov. 8, 2011, the voters of Indianapolis will make their best judgment about who should lead the city as our next mayor. My job over the next 11 months is to make clear to you why I am the right person to take on that leadership mantle. I look forward to seeing and hearing from you in that effort.•
____________
Kennedy, a former deputy mayor of Indianapolis, is running for mayor. Send comments to [email protected].
Please enable JavaScript to view this content.