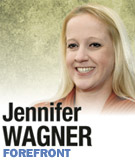 After each hard-fought campaign cycle ends, every successful candidate inherits a responsibility—takes an oath, in fact—to faithfully uphold the duties of an elected office and the laws of the land.
I would argue that there's another unspoken responsibility especially incumbent upon those elected to executive positions: the creation of political generations.
People who volunteer or work for campaigns should do so with no expectations of future employment, but it's no secret that many victorious candidates hire staff from their campaigns. Loyalty can beget jobs, and someone who's already been battle-tested on the trail can become an effective public servant once the focus shifts from politics to governing.
Certainly, that transition is where each new generation begins. After all, those who work on losing campaigns are forced to lick their wounds and move on—in different directions—to other causes and paychecks.
I was recently chatting with a Hoosier political expat in Washington, D.C., who told me about a prominent Democratic operative's wedding where the photographer had to identify the dozens of different groups there not by schools attended or family ties, but by calling out the names of candidates for whom the bride and groom had worked.
In Indiana circles, you'll hear reference to "O'Bannon people" and "Bayh people," "Daniels people" and "Lugar people." Most folks identify with the one who brung 'em to the dance.
But the actual creation of a political generation depends not just on working for a winning candidate, but on that elected official's making it a priority to place top talent outside of his or her administration, oftentimes helping those people make their own bids for public office.
It's not something that happens naturally, and it takes some legacy planning to make sure people don't stick around too long. Four or eight years might seem like a good chunk of time, but it's easy to become comfortable with a loyal staff, to rely on your first-string team instead of pushing the best and brightest out of the nest into positions of prominence in the community. Complacency also inhibits new perspectives from coming in the door.
In my mind, no one in recent history has been better at placing talent than recently retired Sen. Evan Bayh during his gubernatorial years.
There's a long list of former Bayh staffers who've gone on to great things in Indiana and elsewhere, and Bayh was almost always an integral part of those successes.
Unfortunately, my generation doesn't really have a "generation." At least not yet.
For me, especially given Bayh's departure from public office for the foreseeable future, the creation of a network of political operatives who feel like they're all part of the same team is a critical goal over the next two years leading up to the 2012 election cycle.
It's a goal that's likely to be driven by the next Democratic gubernatorial candidate, someone I believe needs to be able to unite all the old factions while bringing new blood—eager folks in their 20s and early 30s who don't feel like they belong to any of those groups—into the system.
Once he or she is elected, Indiana's next Democratic governor should focus first and foremost on implementing a visionary agenda for the Hoosier state that will put us back on the path to honest budgeting, job creation and government accountability.
Part of that implementation should also include hiring and training people to become the next set of experts in various policy areas and then moving them, at the right time, into positions where they can continue to influence the direction of the state from outside state government.
Devoting time to the creation of a new political generation serves an elected official both by immediately generating satellite eyes and ears in important places and by establishing a far-reaching network of people who are loyal to the utmost and dedicated to the long-term legacy of their patron political saint. My generation is ready to serve. We just need someone to show us the way.•
____________
Wagner is an Indianapolis denizen who is returning to her native city after serving as deputy director of public affairs at the National Nuclear Security Administration. Send comments on this column to [email protected].
Please enable JavaScript to view this content.