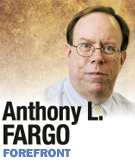 "Somewhere in the distance

The city lights do shine

The sidewalks gleam with neon dreams

That call from time to time

When my children's children

Ask me why I didn't go

They say the heart of any town

Is the people that you've known

They'll always call you home."

Folk singer Nanci Griffith was crooning "This Old Town," written by Janis Ian and Jon Vezner, on my car stereo as I drove through farmland and the occasional threadbare community on U.S. 150 between Louisville and Paoli. I was on my way home from spending Christmas in Grayson, my hometown in northeastern Kentucky.

The convergence of the music, the surroundings and the fresh memories of my visit to Grayson led me to think, oddly enough, about economic development.

My personal ambitions led me to leave Grayson years ago and eventually led me to a place close enough to allow regular visits. I still have much affection for Grayson and other small towns, but that doesn't blind me to their challenges.

My hometown and those communities on 150 have similarities, at least outwardly. All have seen better days. Agriculture remains one of the major economic engines, although it is often underappreciated by those who measure economic vitality by smokestacks and office towers. They are blessed by beautiful, sometimes breathtaking, scenery. They have residents who embrace hard work.

Grayson has nearly doubled in population since I was born, although it is still a small town of fewer than 4,000 people. When I was young, many people in town worked at the steel plant or oil refinery in nearby Ashland.

When I was in elementary school, Interstate 64 began to make its way through Grayson, promising easier access to the world and economic growth. The state later added a two-lane highway that links the area to Cincinnati. There are now several chain motels next to the I-64 interchange, and fast food places abound. A ham processing plant came to town. Grayson sits in the center of three state parks, making it something of a tourist mecca.

But the rise of relatively low-wage service jobs has been accompanied by major cuts at the steel plant and refinery. So instead of the low-wage service jobs complementing the higher-paying industrial jobs nearby, they are replacing them. Meanwhile, an industrial park with its own interstate exchange just past Grayson is mostly empty.

I am not worried that Grayson, or those communities along U.S. 150 that I zipped through on Christmas Day, will disappear. Agriculture will remain important. Grayson sits in a prime tourism spot. There are two universities and a bustling community/technical college, as well as a small private Christian university, within a 35-mile radius. Those institutions will be crucial in training local residents for jobs in health care, technology services and other growth industries.

The manufacturing jobs that helped sustain Grayson and neighboring communities are disappearing. But I recently read that some local businesspeople were putting together a cooperative of individual IT experts so that, together, they could try to attract IT service contracts they could not attract alone.

The information superhighway may do for Grayson what the interstate did not. Many technology jobs do not require people to work together in an office, as long as the infrastructure is available. That, of course, is the challenge, as is education. I saw a lot of young people using electronic devices on my visit, but I don't know how well the schools are teaching them to use them for work as well as play.

My hometown and the southern Indiana communities I encountered have much to offer, including hard-working people, clean air and beautiful scenery. To ensure they survive and grow, community and education leaders need to help prepare workers for opportunities in the new economy. Those communities will always call us home, if a future awaits along with memories of the past.•

____________
Fargo is an Indiana University journalism professor and member of the Indiana Coalition for Open Government. Send comments on this column to ibjedit@ibj.com.