In his State of the State address, Gov. Mitch Daniels may have stretched the facts in his effort to extol the importance of teacher quality over smaller classes.
But his basic argument jibed entirely with the thinking of most education policy experts, who have in the past decade shifted their recommendations away from smaller classes and toward efforts to improve teacher quality.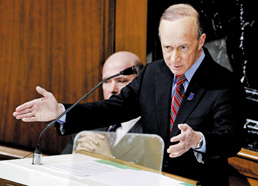 Gov. Mitch Daniels argued for education reforms in his State of the State address. (AP photo)
The new recommendations reflect changes in research, but their enthusiastic embrace by politicians in Indiana and around the country reflect changes in revenue.
"Teacher quality has been found to be 20 times more important than any other factor, including poverty, in determining which kids succeed," Daniels said before the Indiana General Assembly on Jan. 11. "Class size, by comparison, is virtually meaningless."
Daniels used his speech to launch an ambitious round of education reforms, many aimed at improving teacher quality. But he isn't advocating more spending on public schools right now, after cutting $300 million from education funding in response to shrinking tax revenue.
So Daniels, along with public schools chief Tony Bennett, wants to allow schools to pay teachers based in part on their students' performance on tests, and to more easily remove teachers for poor performance. Those proposals will add nothing to the state budget—a key advantage in a year when the Legislature is trying to close a $1 billion budget gap.
Small class sizes are far from meaningless, but their pitfall as a policy for school reform is cost. Slight reductions to class sizes have not been shown to have much impact, but large reductions mean hiring lots of new teachers.
A 25-year study in Tennessee, called Project STAR, found that students placed in classes of 13 to 17 students in grades K through 3 performed far better over time than peers in classes of 22 to 26 students.
Their test scores were higher, they were more likely to graduate, and more likely to be in the top 10 percent of their classes. In addition, black students lagged less behind their white peers when compared with black and white students who were in larger classes.
"What any teacher who has been in the classroom for any length of time will tell you is, they will be able to do a better job in a class of 20 than in a class of 40," said Nate Schnellenberger, a former high school science teacher who is now president of the Indiana State Teachers Association, the state's largest teachers' union.
"When it got over 30 in a class, it got much more difficult to be of extra assistance, especially those who needed special assistance, and to maintain discipline."
Indiana has made progress on this front. Since the 1980s, Indiana has funded a program called Prime Time to keep class sizes at no more than 18 in grades K through 3. And the ratio of students to teacher in Indiana public schools has fallen from about 23 to 1 in the mid-1970s to 17 to 1 today.
The national ratio is about 16 to 1.
The ratios can include many licensed teachers who are not working in a classroom, so actual class sizes are often larger.
And Schnellenberger cautioned that averages can be misleading, because there may still be many classes, especially in smaller schools, that have far too many students. He said instances of overly large classes have cropped up in the past couple of years after Daniels' budget cuts led to some teacher layoffs.
For a school to mimic the large class-size reductions of the Tennessee experiment—35 percent—it would have to hire more than 50 percent more teachers. Across the entire state of Indiana, that would mean hiring more than 30,000 new teachers.
Few states have ever had the resources to do that, so results have been muted, noted Russ Whitehurst, director of the Brown Center on Education at the Brookings Institution in Washington, D.C.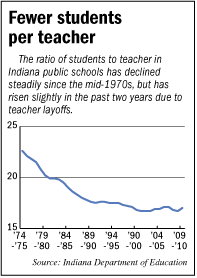 "There's no evidence that students respond differently to having 22 students as opposed to having 25," said Whitehurst, who served in the U.S. Department of Education under President George W. Bush.
But evidence has been mounting on the importance of teacher quality in students' performance.
A 1996 study, again in Tennessee, found that fifth-grade math students who had high-quality teachers three years in a row scored two to three times as high on tests as peers who had poor-quality teachers three years in a row.
In this decade, the avalanche of standardized testing data has created a cottage industry of research on the factors that influence students' scores, and teacher quality or effectiveness has been shown repeatedly to be the most important one schools have control of—not counting the huge impact of poverty or broken homes.
"You can't expect the building principal to keep the family together," Whitehurst said.
Daniels' comments that teacher quality is more important than poverty were taken from a December presentation by Tony Bennett, Indiana's secretary for public instruction.
That presentation drew on a draft study from 1998, which did show teachers influencing student scores more than other factors such as ethnicity or income. But most studies have not made this assertion.
The 1998 paper, written by late University of Texas-Dallas professor John Kain, did not even attempt to quantify teacher effectiveness as 20 times more significant than the other factors it considered.
But in a 2003 speech, retired education scholar Daniel Fallon used the data in the Kain study to say that the difference teacher quality made in student test scores "is 20 times greater than that from any other variable, including class size and socioeconomic status." Bennett's presentation, and then Daniels' speech, alluded to Fallon's statement.
"If you want to challenge it, that's OK," Bennett said in an interview. However, he added, "There is nothing to base the idea that teacher quality isn't the number one school-based reform that we have."
Terry Spradlin, who worked in the Indiana Department of Education before Daniels and Bennett arrived, agreed.
"Really, there's no new ground-breaking research that's driving this agenda—though some of it presently is being overstated about the effects," said Spradlin, who is now associate director for education policy at Indiana University's Center for Evaluation and Education Policy. "But I do not dispute whatsoever that teacher effectiveness is the No. 1 strategy in the schools."•
Please enable JavaScript to view this content.