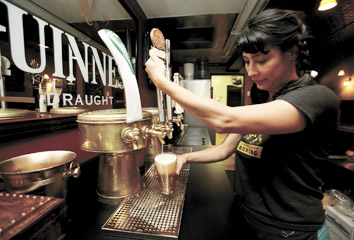 SHIPSHEWANA—A battle is brewing in the northern Indiana tourist town of Shipshewana over whether a convenience store should get a permit to sell alcoholic beverages.
A Gas America store has applied for a permit to sell warm beer and wine in the largely Amish, northeastern Indiana community town that's now primarily dry.
Businessman Kevin Lambright already has collected 180 signatures against the permit request in the town of only 500 people, WNDU-TV reported Friday.
"This is something we don't need or desire in our community," said Lambright, co-owner of the Shipshewana Auction and Flea Market. "We are unique in this particular area and we choose to stay that way."
Many of the area's Amish residents travel by horse and buggy, but Lambright said he's arranging motor transportation for them to next week's meeting of the LaGrange County Alcoholic Beverage Board, where the permit request will be discussed.
The Shipshewana Town Board voted to write the board to oppose the permit.
The town about 35 miles east of South Bend draws bus tours and other visitors interested in its Amish culture, crafts and foods.
"We've always been a quiet, dry town and we're more family-oriented towards that type of entertainment and that type of thing," said Linda Zehr, who operates a dulcimer shop.
Irene Gilbert of Battle Creek, Mich., traveled to Shipshewana with a friend earlier this week to buy fabric.
"We come here because we do like the town the way it is," Gilbert said.
A message seeking comment was left at Gas America headquarters in Greenfield, Ind.
Shipshewana has at least one alcohol permit already. At the Shipshewana Town Center, if someone rents a room for a wedding reception or another event, they can contract with a third party to provide alcohol.
However, no business in Shipshewana offers alcoholic beverages for carry-out sales.
"It's well available, readily available in neighboring towns, every one of them," Lambright said. "But we're saying for us, that's fine, but go there and get it if you want it."
Please enable JavaScript to view this content.