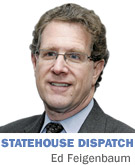 As we previously have noted this session, there are some interesting overarching philosophical issues that could determine—or complicate—more than a few items.
One of these items is "regulatory reform," an effort that—depending upon who is advancing it—may be aimed at streamlining government, making government agencies more responsive to business and individuals, reducing the proverbial bureaucratic red tape said to hamstring economic development, and preventing "unnecessary" government intrusion into the personal and professional lives of Hoosiers.
House Speaker Brian Bosma, R-Indianapolis, makes this a point of emphasis this year, creating a new House committee—the Committee on Government & Regulatory Reform—and appointing a veteran Democratic lawmaker with a long career in the banking industry to chair the panel.
Gov. Mitch Daniels and Superintendent of Public Instruction Tony Bennett have expressed frustration over the amount of regulations and contractual restrictions limiting the ability of government to effectively create educational opportunities and deliver quality learning experiences.
While they're Republicans, this is arguably not a partisan proposition. Democratic President Barack Obama is embarking on an effort to cut federal government regulations (and that's not a new concept; former U.S. Rep. David McIntosh ran the White House regulatory reform initiative for fellow Republican Ronald Reagan some 30 years ago).
But what may be appropriate regulatory reform to one person or industry may be anathema to another.
Recent IBJ reporting has highlighted business frustration over strict enforcement of code regulations. But the newspaper also has separately pointed out how one Indianapolis developer made major changes from approved plans to a downtown apartment project—actions that escaped detection from city and state inspectors and raised fire safety concerns.
Two matters on the agenda of the state's Air Pollution Control Board also illustrate the tensions at play, as well as the interesting interplay between the executive and legislative branches. On Feb. 2, the board will consider final rules related to greenhouse gas emissions and outdoor wood boilers.
The greenhouse rules effectively follow federal regulations and aren't controversial, but come at a time Hoosier lawmakers are minimizing the role of such emissions in larger problems, and seeking to expand our reliance on Hoosier coal (albeit cleaner-burning).
Rural lawmakers have been hearing an earful from both sides during the five-year-long rule-making process. Some homeowners find these boilers a cheaper way to stay warm, while their neighbors complain about heavy smoke drifting into their homes. While the new rules may sanction wood boiler use, lawmakers could intervene legislatively to overrule the agency.
Another example: Officials from Chicago and Illinois have raised a stink about Indiana's environmental permitting process, which allowed air and water discharges at northwestern Indiana's massive BP refinery expansion. While discharges would occur in Indiana, they affect the quality of life (and, potentially, drinking water) in Illinois.
When Rahm Emanuel was an Illinois congressman, he railed against the BP permit approval. If elected mayor of Chicago, will Emanuel press the White House to intervene with the U.S. Environmental Protection Agency, setting up a regulatory federalism showdown?
BP's $3.8 billion expansion is the largest economic development boost the state has seen in decades, but it will be matched by new power-generating facilities, if the Indiana Utility Regulatory Commission and lawmakers do not stand in the way.
Some lawmakers are snickering over a proposed regulation from the State School Bus Committee (did you even know we had such an animal?) requiring that "exterior mirror backs and bracket supports must be black or stainless steel" on Indiana's school buses. While this language actually doubles the options available to bus manufacturers (stainless steel had been barred), some see the push for the new standard as an example of excessive or needless education reform.
Many new lawmakers promised to cut government regulation and minimize government in the lives of their constituents. But they are learning quickly that the principles they espoused in campaign sound bites might not be so easy to apply as they'd thought.•
__________
Feigenbaum publishes Indiana Legislative Insight. His column appears weekly while the Indiana General Assembly is in session. He can be reached at edf@ingrouponline.com.
 
Please enable JavaScript to view this content.