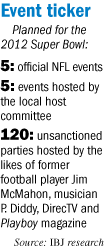 DALLAS—The compact nature of downtown Indianapolis—long seen as a major draw for conventions and other events—is creating challenges for organizers of next year's Super Bowl.

Members of Indianapolis' 2012 Super Bowl host committee spent the first few days of this month taking in Super Bowl goings-on in Dallas, playing more the part of sleuth than fan. Among their assignments: getting a feel for the myriad social activities—both sanctioned and unsanctioned—surrounding the big game.

Local officials came away realizing the immense job they have ahead of them in planning accomodations for traffic flow, parking and security in such a small downtown.

"The compactness of our city makes this a very unique situation," said Mike Bates, Indianapolis Metropolitan Police Department deputy chief in charge of homeland security, who went to Dallas for the Super Bowl. "It could be a really good thing or an absolute curse."

And that could make or break the city's efforts to use the Super Bowl as a marketing tool in hopes of boosting its tourism and convention business and attracting corporate headquarters.

While there's an obvious upside to having a 5,000-strong global media contingency and 150,000 people descending on the city, Bates has concerns about congestion for visitors and locals alike.

"We have to keep this city flowing," he said. "It's imperative to get everybody safely where they need to go, and that's going to be a really big job the week of the Super Bowl."

Bates expects portions of South and Georgia streets to be closed, along with segments of Capitol Avenue. But the NFL is likely to request other street closings for the week of the big game, too, and that information won't be known for some time.

"Right now, we're kind of shooting in the dark," Bates said.

The harsh winter weather that gripped much of the nation last week also has heightened concerns for the snow- and ice-removal plan in Indianapolis—one of the few northern cities to host a Super Bowl. Downtown's size also compounds that challenge, league officials said, given the concentration of traffic.

Indianapolis' host committee members said they realize a big part of putting the city in a position to secure another Super Bowl will depend on how they manage security, traffic and the winter weather.

Winter armada readying

In addition to spending millions of dollars to replace 80 percent of the city's snow-removal fleet in the last three years, local Department of Public Works officials have lined up 500 volunteers to hand-shovel downtown streets, sidewalks and parking lots if necessary.

The city also has made arrangements to have vacuum trucks suck up snow and transport it to lots in the 1700 block of West Street so no parking spaces are lost under mounds of snow.

And city officials recently signed up 400 new snow-removal contractors—for a total of 500—and are talking to an Ohio firm about deploying its large-scale portable snow and ice melting unit, which could help turn frozen precipitation into water that can be pushed out of the city via the sewer system.

"We're very, very prepared," said DPW Director David Sherman. "Short of a major natural disaster, I don't think weather will have an impact on the Super Bowl. I'm confident we're more prepared to handle the winter weather than the vast majority of cities."

Undercover in Big D

Indeed, security could pose a bigger challenge than weather, given the abundance of both high-profile and top-secret parties that often draw celebrities to a Super Bowl city.

The National Football League and host committee each are planning five gatherings of their own, but organizers also are expecting about 120 other events ranging in size from 50 to 5,000 attendees.

Indianapolis host committee members spent last week embedded in security and hospitality departments in Dallas, scouring NFL-sanctioned and underground parties, trying to figure out who was going, how they were getting invited, and who was in charge of planning.
Melangton
"We know that, come the Monday after Super Bowl Sunday, these event planners are going to turn their eyes toward Indianapolis to start planning for next year's Super Bowl," said Allison Melangton, 2012 Super Bowl Host Committee CEO. "We need to know where they're going to book these events, how many people are going, and what kind of crowd we're talking about."

Melangton, who has worked at a number of major international sporting events, from the Final Four to the Olympic Games, said there is no challenge greater than hosting the Super Bowl.

"The Super Bowl is much, much bigger than the Final Four," she warned. "And you simply don't have the amount of entertaining at the Olympics that you have at the Super Bowl. I mean, P. Diddy and Jordin Sparks don't throw parties at the Olympics."



Dallas' host committee built a database of Super Bowl events and event planners that is proving valuable to Indianapolis Super Bowl organizers. It's the first time such a database has been built, NFL officials said.

"We decided we had to get our arms around this," said Tony Fay, vice president for the North Texas Super Bowl Host Committee. "We've had to really keep our ears to the ground and listen not only to social media and things on the Web, but keep in tune to the grapevine and every other form of communication we can to monitor these events."

Other host cities, including Miami, New Orleans and Detroit, have taken a hands-off approach to unsanctioned Super Bowl events.

"They just let what happens, happen," Melangton said. "We didn't feel, due to the size of our city and the way we're operating things, that was the way to go."

In addition to searching out event organizers in Dallas, Melangton and her staff are reaching out to entertainment agents from Hollywood to New York in hopes of finding out the plans of some of the regular movers, shakers and stars who attend these Super Bowl mega-events.

Melangton's posse also is making a plea to Indianapolis hotels, conference centers and party facilities not to book any events without first contacting the local host committee.

"We're not trying to interfere with their event," she said. "But with such a compact downtown, we have to make sure we have adequate accommodations. It's essential to make sure everything runs smoothly."

Indy '100-percent unique'

Melangton quickly has made a name for herself in Super Bowl circles. Last week in Dallas, officials from New York—which is hosting the game in 2014—met at length with the former Indiana Sports Corp. executive to tap her expertise on hosting an urban Super Bowl and working with the unsanctioned party planners.

The varied nature of the unofficial events—hosted by a variety of celebrities and media outlets, from former NFL quarterback Jim McMahon to rapper Sean "P. Diddy" Combs and Playboy magazine—make them especially challenging.

"You never know what kind of crowd you're going to get," IMPD's Bates said.

Indianapolis is only the third city to concentrate most Super Bowl events in an urban area. And the others—Detroit and New Orleans—have larger areas within or near their downtowns.

"We're 100-percent unique in the compactness of our downtown," Melangton said.

Lucas Oil Stadium is hardly more than a football field away from the Indiana Convention Center and numerous restaurants, ballrooms and other hangouts expected to host NFL-sanctioned and non-sanctioned events.

Dallas and perennial Super Bowl host Miami are far more sprawling cities, giving party and event planners an opportunity to spread out. The football stadiums in those locales also are more than 15 miles from downtown, further scattering activities.

And although areas like the Indiana State Fairgrounds and Keystone at the Crossing are expected to be busy with events next year, Melangton said the majority of party planners will flock to the tightly knit downtown area, where many upscale hotels and sought-after restaurants are located.

Piecing together the puzzle

While there are still many unknown elements of the 2012 Super Bowl, some are becoming clearer.

After recent site inspections, the NFL determined the new JW Marriott hotel would host the media and house the massive media center.

The AFC Championship team will stay at University Place Hotel on IUPUI's campus, and the NFC Championship team will stay at the Marriott Hotel. The headquarters for NFL brass will be the Westin Hotel, next door.

The local host committee will hold a party for the media at the Indianapolis Motor Speedway pagoda and adjoining areas.

To help with transportation, the host committee is arranging to bring in dozens of buses to combine with the local fleet for a total of 300-plus buses, which will be staged at the Indiana State Fairgrounds. Several groups also are looking to host parties at the fairgrounds, including a large beach party, possible at the Pepsi Coliseum or West Pavilion.

The NFL Experience, which is expected to draw 300,000 football fans, media members and NFL corporate sponsors, will occupy the entire first floor of the Indiana Convention Center.

"You have to remember, Miami has done 10 Super Bowls and New Orleans has done seven," Melangton said. "This is all new for us. We've hosted a lot more sporting events than a city like Dallas, but we've still never done a Super Bowl, so there's a lot to get our arms around.

"It's like a big puzzle," Melangton said. "And the pieces are starting to fall into place."•