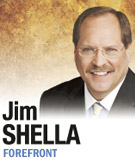 The recent shooting of Arizona congresswoman Gabrielle Giffords has prompted a nationwide discussion regarding the tone of our political deliberations. Is there too much vitriol? Do extremists on both ends of the spectrum go beyond rational discourse in an unnecessary fashion? What can be done?
Without even attempting to answer any of those questions, I can tell you that the level of debate in Indiana politics has changed significantly over the last two decades or so, and it's not for the better.
I first covered a statewide political race in this state in 1984 when Republican Gov. Bob Orr won re-election over Democrat Wayne Townsend. It was a close, hard-fought race and the last time Indiana experienced a contest of that magnitude that included no negative TV ads.
Four years later, Democrat Evan Bayh accused Republican John Mutz of making a sweetheart deal with Japanese auto companies in TV ads that some found offensive. The lid was off. Now negative advertising is a way of life for political strategists who see it as the easiest method of changing public opinion.
Direct-mail pieces and phone calls go even further than broadcast ads. A Democratic candidate for the General Assembly last year was accused of coddling child molesters in a mail piece that featured a hand holding a switchblade. Phone calls to voters backed up that inaccurate message and the candidate who was the target of the ads, Rep. Dale Grubb, D-Covington, then began receiving phone calls at home accusing him of being a criminal. Republicans justified the tactic by saying the strategy was a direct copy of ads used against a GOP candidate in another race. Both major parties are guilty.
I'm often invited to take part in panel discussions where voters complain about negative ads and the answer from politicians is usually a short one: "They work." I compare the attack ads to gossip. Everybody claims to ignore them and abhor them, but they grasp the messages sent and repeat them.
And it's not just campaigns and ads that contribute to the dialogue. Two of the most memorable Indiana moments in the 2009 health care debate involve face-to-face encounters. The first came when then-congressman Baron Hill angrily told a voter she couldn't videotape "his" town hall meeting, saying, "I set the rules." The other came when a red-faced businessman went nose-to-nose with André Carson after the 7th District congressman spoke to the Indianapolis Rotary Club. There was no danger in either case that the discussion would change a point of view.
Political scientists will tell you that negative attacks in politics are nothing new. They go back to the founding of the country. But the tone is more personal now, especially when you consider the commentary on the Internet, the anonymous remarks made by angry people hoping to shame those who hold an opposing point of view, including some who conduct their own blogs.
The Internet also gives politicians new tools to spread a message they would never attach their name to. Sen. Dan Coats was the target of anonymous music videos during the 2010 primary that came from fellow Republicans who hoped to damage his candidacy. The resulting cacophony desensitizes all of us.
Some people still recognize limits. In his first term, Gov. Mitch Daniels said Democrats "car bombed" his agenda in comments that prompted the governor to both issue a retraction and choose his words more carefully in the future.
But let's return to the 1984 governor's race for a second and let me reveal something I never had a reason to report until now. Bob Orr had negative ads. I saw them, and I suspect Wayne Townsend had them, too. Both campaigns were ready to air them but unwilling to be first. The theory was that voters would punish the candidate who went negative first, so the ads stayed in the can.
That would never be the case now and that, more than anything, may explain how our political speech has gone downhill in the last quarter century.
So, what can be done?•
__________
Shella is WISH-TV Channel 8's political reporter as well as host and producer of the Emmy-nominated "Indiana Week in Review." Send comments on this column to ibjedit@ibj.com.
Please enable JavaScript to view this content.