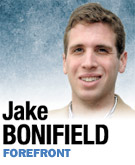 In his State of the State address, Gov. Daniels wasted little time and few words on issues other than education reform, the elimination of township government, and the fiscal health of our state. He managed to deliver a speech that was narrowly focused on a handful of policy areas, but never came close to providing specifics.
Perhaps he was afraid of losing the larger national audience tuned in to apply the presidential litmus test, but for the constituents he currently serves, the lack of detail was troubling, particularly concerning education.
In one of the more prefab moments of the evening, Daniels brought his own fourth grade teacher, Bob Watson, to the front row of the gallery. Daniels recounted Watson's impact upon his own education, quoting one of several aphorisms he passed on to his students.
I have no doubt Watson is a great educator. The relevant policy question is, how do we find him?
I certainly don't consider myself an expert on education, but in the 15 years I have attended public and private schools, I have seen great, mediocre and subpar educators. Good and bad teachers exist, and the latter certainly detract from the educational experience.
The crux of the debate, however, should be focused on how we provide teachers with tools to better their teaching, not whether contrived formulae can accurately judge their performance.
The first bill filed in the Indiana Senate this year is one of a few flagship proposals purporting to do just that. How does it define an "effective" teacher?
In short, it doesn't. Instead of articulating mechanisms for discerning which teachers are highly effective and which need improvement, the bill defers to the State Board of Education, leaving untouched provisions in the Indiana Code that allow teachers to be terminated for reasons of "immorality" as well as for "good and just cause."
Who is qualified to evaluate teachers for effectiveness? Circular logic would answer: evaluators and effective teachers. And so it is written. An evaluator, per SB 0001, "means an individual who conducts a staff performance evaluation. The term includes a teacher who has clearly demonstrated … effective teaching." The bill goes on to require that school corporations take into account test scores when those scores are available. For teachers whose subjects are not tested by state assessments, objective measures are described as any "methods for [assessment]."
And yet the crucial question remains: What merits effective performance for teachers? How many kids must pass? A year later, how many different kids must leap over that bar? Where are the lines in the sand? If the bill becomes law, the State Board of Education would draw them. It would be its responsibility to define the categories and standards of evaluating teacher performance.
In the spirit of arbitrary, imperfect evaluations, we might ask, what merits ineffective legislation? Is it good public policy to punt on the very issue around which you've built your push for reform? I would submit it isn't.
If we are going to subject teachers to another round of top-down regulation, we owe them clarity. We owe it to our educators to say what we intend to require and how we will require it. Deferring to a non-elected board while reaping the political benefits of having "brought reform" isn't going to cut it.
Here's a clear standard for legislators: Write a bill that would reward Watson and his worthy counterparts across the state; in urban districts and rural; teaching math, science, foreign language and other subjects; all at different levels of seniority. And if you find there is no magic formula for identifying them, don't pass the assignment on to someone else.
If House and Senate Republicans truly believe they can identify which teachers should go and which deserve rewards, let them write legislation that does it. As students, we are constantly being reminded to do our own homework.
Perhaps, when it comes to education, our legislators ought to do their own legislating.•
__________
Bonifield is a political science major at DePauw University and president of Hoosier Youth Advocacy, an organization focused on increasing youth participation in the Indiana General Assembly. Send comments on this column to ibjedit@ibj.com.
Please enable JavaScript to view this content.