With the new health reform law expanding insurance benefits to millions more people, Phil Morphew wonders how Indiana will find all the doctors, nurses and health clinics needed to care for them.

So Morphew, president of the Indiana Primary Health Care Association, wants to double the number of federally qualified community health centers in Indiana in the next five years.

And he thinks by raising $1 million in each of the next two to three years, he can do it.

Morphew
"We've got our work cut out for us," said Morphew, who for 20 years was CEO of Indianapolis-based Health Care Excel Inc., which helps health care providers assess and improve the quality of their services.

What worries Morphew most is that health reform's expansion of the federal-state Medicaid program is projected to add more than 500,000 Hoosiers to that program. Because of poor reimbursement rates from Indiana Medicaid, many private doctors do not accept Medicaid patients.

But the community health centers that are part of Morphew's group do—and get paid a little extra for doing so. The trouble is, Indiana has only about 50 locations of such health clinics right now and ranks last among states in per-capita funding from the federal agency that supports them.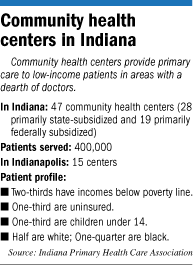 Indiana receives less than $14 per person from the Health Resources and Services Administration, compared with a national average of nearly $25 per person.

But the health care reform law also promises to spend $11 billion in the next few years to expand community health centers. So Morphew wants Indiana to grab as much of that pie as possible.

His plan now is to hire people who can help communities in medically underserved areas build the complicated applications to get federal approval for new community health centers. In addition, Morphew said, he wants an extra staff person to help recruit doctors to work in medically needy areas. Federally qualified health centers can recruit doctors from a federal program that pays off their medical school debt.

"I just cringe when I think of 500,000 people," said Morphew, who left Health Care Excel to serve in the Peace Corps in Zimbabwe. "How are we going, as a state, to make that happen?"

Morphew isn't the only person asking that question. So is Charlotte MacBeth, CEO of MDWise Inc., an insurance company that has a contract from the state government to administer Medicaid benefits for about 300,000 Hoosiers.

With many doctors not eager to accept Medicaid's payments, which often run 40 percent or more below cost, MacBeth worries that the nine existing hospital-and-doctor systems MDWise uses will be overtaxed.

"It will certainly challenge our providers," she said.

Dr. Greg Larkin, Indiana's commissioner of health, convened a primary care task force 3-1/2 months ago, to try to help the regions that suffer from a shortage of doctors and nurses. It was an issue even before the health reform law passed in March and already was predicted to get worse as baby boomer medical professionals retire at the same time their aging peers need more medical care.

Of Indiana's 92 counties, 50 have at least part of them that is medically underserved, according to federal criteria. For 28 of those counties, their need is for primary care doctors and nurses.

But doctors and nurses tend to congregate closer to urban centers—though not in inner cities. So urban cores and rural areas are left with a dearth of medical professionals.

People with health insurance tend to seek more medical care than the uninsured. As a result, the 32 million people slated to gain coverage by 2019 as a result of health reform will only worsen the situation.•