The developer of the embattled DiRimini apartment complex now is facing foreclosure on a $2.8 million loan for the project from Louisville-based Stock Yards Bank & Trust Co.

The 31-unit project at the southeast corner of Capitol Avenue and St. Clair Street has been in limbo since city officials put the brakes on work after finding several building code violations late in 2010.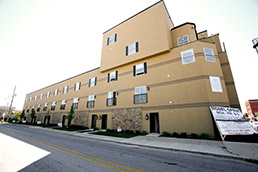 The developer of the DiRimini apartment complex at Capitol Avenue and St. Clair Street is facing foreclosure on a loan. (IBJ File Photo)
The nearly completed project by developer Jeff Sparks differs in at least 35 ways from the one approved under the city's urban design guidelines. The variations prompted a stop-work order in September, which was followed by an order prohibiting occupancy after Sparks began moving in residents.

The second order cited the original violations, along with unsafe construction practices, violations of the building code, and failure to secure state approval of a fire alarm system and elevators.

The foreclosure case, against DiRimini LLC, is in Marion Superior Court Division 12.