A little over a year ago, Jennifer Rubenstein had a lucrative job, a loving husband and her firstborn on the way. Life was good.

Then she lost her gig as a marketing consultant, and realized life hadn't been so good after all. She had gained weight from eating airport food, never seemed to catch up with the jet lag, and hadn't made any friends in Indianapolis after moving here for her husband's job.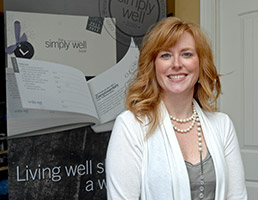 Jennifer Rubenstein founded Simply Well, a coupon book full of spa, yoga studio and organic market discounts, as a way to make luxury products and services more affordable. (IBJ Photo/ Perry Reichanadter)
As she recovered from childbirth and tried to figure out her next career move, her husband treated her one day to a spa visit for a massage and facial.

"I came home from the spa thinking about how much pleasure I get from looking pretty and feeling healthy, and how I bet a lot of other people feel that way, too," said Rubenstein, 35.

That moment was her inspiration for Simply Well LLC, a marketing business that launched the Simply Well Book in September. The book, which retails for $35, features special offers from 46 locally owned salons, organic markets, yoga studios and similar businesses. Consider it a Zoo Book for healthy living.

The first 1,000 copies have nearly sold out. A second edition of the book, with more than 20 new vendors on board, is in progress. Rubenstein also plans to expand the book to other markets. A former co-worker already is gathering a list of vendors for a Myrtle Beach, S.C., edition, and Rubenstein is looking at Cleveland and Nashville, Tenn., as well.

Denny Kladis, president of Carmel-based Discovery Saving, which produces the Discover Indy Savings Book, said the Simply Well Book is "right on target."

He said the market responds best to a 20-percent to 50-percent discount, which Rubenstein offers through myriad buy-one, get-one-free offers.

"The wellness industry is certainly a growing niche," he said. "People are realizing they're not as healthy as they should be, which will add to the perceived value [of the book.]"

Rubenstein said one of her goals in launching Simply Well was to help small businesses with tiny marketing budgets. She herself has taken a grass-roots approach to marketing the book.

"I wanted to get the word out to as many people as possible for the lowest cost and really make the most of the connections I've made," she said.

Her marketing efforts lean heavily on social media—she posts often on Facebook and Twitter. She also has partnered with local beauty blog Pretty Indy and online magazine Fashion Wrap Up to offer promotions and giveaways from the book's vendors.

The book is sold through thesimplywellbook.com and at six area vendors, including David & Mary Salon and Traders Point Creamery. All vendors are invited to purchase the books at a discount in order to sell them at retail price.

There's no charge to vendors to be included in the book, but their offer in it has to be exclusive. And unlike sites like Groupon.com, Rubenstein doesn't take a percentage of sales.

The book includes well-known names like Georgetown Market and Studio 2000 Salon & Day Spa, as well as lower-profile companies like Ology Spa, which is tucked inside the Indiana University North and West Medical Centers.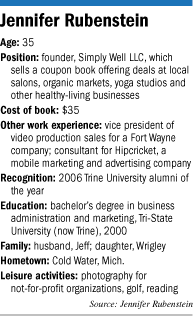 Ology opted not to sell the book on site since it contains offers for so many competitors, said co-owner Andrea Bradley-Stutz. But she said participating in the book was a no-brainer because the investment was so minimal.

"We had already looked at doing something similar, but on a much smaller scale," Bradley-Stutz said. "But Simply Well has the potential to reach a much broader audience."

Simply Well grew out of a home-based marketing business Rubenstein had begun right after college and then let go dormant. But after she had difficulty finding a new job, she decided to jump-start the business, with the Simply Well book as its new hook. Now she performs additional marketing services for many of the vendors in the book.

It cost about $30,000 to get the book off the ground. Rubenstein has recouped it all from book sales and marketing billings, and turned a small profit last year.

The book is printed locally at Print Resources. Made of recycled card stock and held together with a dainty organza ribbon, the book doesn't look like something thrifty—no perforated coupon edges here. Rather, the scrolled design on the cover and the inspirational quotes within make it clear the Simply Well book is more a guide to all things indulgent than something for penny-pinchers, although Rubenstein said she priced it to be both.

"It sounds cliché, but putting the book together taught me that wellness—physical, emotional and nutritional—is a necessity," Rubenstein said.

Businesses in the book range from Noblesville to downtown Indianapolis to Brownsburg. Careful not to saturate any single geographical area, she looked at about 500 prospects, trying to focus on women-owned companies. She whittled down the number using a variety of criteria. For example, she eliminated any business without a website or with online reviews of less than three stars. She rejected several places because they were too hard to find or too difficult to contact.

Rubenstein ultimately approached 49 businesses for inclusion in the book and 45 signed on, which she describes as the fewest "no's" she's experienced in her marketing career. Before accepting final offers, she visited each business to evaluate the customer service. Rubenstein personally used the services of 20 percent of the businesses, and relied on recommendations for the rest.

Once she received coupon proposals from the final crop of vendors, she tweaked nearly all of them to include lesser-known services.

"All of the spas were offering a massage or a facial, but everyone's had one of those. But laser hair removal is something a lot of women have thought about trying but don't want to pay full price. I tried to fill in gaps like that," she said.

While Simply Well coupons have a two-year life span, Rubenstein plans to publish a new book every year and hopes to add categories like nutrition and recreation. She'd eventually like to hire someone full time to maintain the book, so she can focus her energy on marketing.

As for her former corporate job, Rubenstein spends little time looking back.

"Sometimes I miss my old paycheck, but putting this book together has helped me realize how much less money matters than just feeling good," she said.•