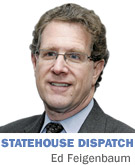 People in Indianapolis may have been under the impression that the National Football League had effectively been delegated the authority to declare martial law of sorts in the metropolitan area during Super Bowl week in 2012.

Those people might be surprised to learn about two issues making the rounds at the Statehouse, one of which might require intervention by the federal government.

Anyone attending major ticketed events at Conseco Fieldhouse or Lucas Oil Stadium is familiar with the visual frisking for weapons as a condition of entry to either Capital Improvement Board facility. But that CIB policy may soon be pre-empted, at least in part, by the terms of Senate Bill 292, which passed the Senate 38-12 on Feb. 14, just as CIB members fretted about the prospect in a regular meeting.

SB 292, authored by Sen. Jim Tomes, R-Wadesville, founder of the Second Amendment Patriots, and co-authored by Sen. Johnny Nugent, R-Lawrenceburg, a National Rifle Association board member, would remove all county, municipal and other political subdivision restrictions on the right to carry properly permitted concealed weapons—with the exception of those applicable to school, court and law-enforcement office buildings.

While the authors seek to eliminate the patchwork quilt of restrictions that can trip up a legal gun owner, and tout their measure as promoting public safety while protecting constitutional rights, the Capital Improvement Board is wary of any change.

In the week before the floor vote, some erroneous information was circulated among solons about the CIB position on the issue, prompting Indianapolis Colts owner Jim Irsay to take to his Twitter account before the vote warning his almost 30,000 followers that, "Someones got a bill n Ind.State Legislature making it illegal 4 CIB 2 stop some1 from bringing a gun into Luc Oil,I'm against it,so should u."

While the feds could intervene and rule that, as a National Special Security Event with U.S. Secret Service security oversight, Indiana state law on gun control is pre-empted, that could trigger an interesting state-rights battle.

Beyond this, there is also local concern that enactment of the proposed law could hamper law enforcement should it opt to establish a so-called "clean zone" for downtown activities at the Super Bowl or any other major events.

After some high-profile downtown incidents during event weekends, consideration had been given to blocking off certain areas, deploying metal detectors and visual searches at designated checkpoints. Such discussion—anathema to civil libertarians—likely would end if SB 292 were to become law.

At Monday's meeting, CIB members devoted considerable attention to addressing the thorny issue, and it was evident that neither they nor the NFL were happy with the changes in law or policy that would result from passage of the Tomes/Nugent bill. The board came to the conclusion that passage of the current measure would supersede all weapons policies at CIB facilities, which also include the Indiana Convention Center, where many Super Bowl events are slated to occur.

There was a clear sense that the board was opposed to the bill, and direct lobbying activity against SB 292—or to clarify that a municipal corporation may contract with a private party that has the right to bar weapons—will be ramping up as the bill heads across the rotunda to the House of Representatives.

Legislators could also soon become involved on a different level with Super Bowl-related activities.

While the Indianapolis Super Bowl Host Committee three years ago seriously considered but has since abandoned the idea of a temporary downtown casino as a visitor amenity, this concept could be revived by lawmakers seeking revenue to plug state budget holes.

At least one Indianapolis legislator has quietly investigated allowing casinos to collaborate on a temporary downtown facility, and Republican Indianapolis Mayor Greg Ballard has publicly not ruled it out—even while dryly suggesting it's probably not high on the NFL's priority list.

Though it remains an extreme long shot, you could still see a legislative initiative offering such a temporary facility for bid—bringing upfront revenue to the state. Imposing a special tax rate could make it more palatable.

One more potentially complicating factor: Current law prohibits patrons' guns in Hoosier casinos!•

__________

Feigenbaum publishes Indiana Legislative Insight. His column appears weekly while the Indiana General Assembly is in session. He can be reached at edf@ingrouponline.com.