If an area's trendiness can be measured by the availability of yoga there, the near-east side has arrived.

The neighborhood's budding commercial district, dubbed 10 East Main Street, landed Metta Yoga at 2807 E. 10th St. The studio offered its first classes Feb. 17.

The yoga studio joins about 25 businesses in the district, which neighborhood residents have been working for about a decade to revitalize. That effort has been aided by the recent Near Eastside Legacy Project, an initiative of the local Super Bowl host committee.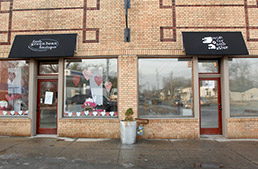 The 10 East Main Street development on 10th Street includes about 25 businesses. (IBJ Photo/ Perry Reichanadter)
The broader effort includes road projects, sewer improvements, housing rehab and revived community venues in the area along 10th Street between Tecumseh and Olney streets just east of downtown.

Other businesses in 10 East Main Street include Pogue's Run Grocer, a food cooperative selling locally grown and organic fare, and Made for Each Other, a community art space.

Metta Yoga's goal is to offer yoga practice to local residents at affordable prices. Most instructors at the studio live or work on the near-east side.