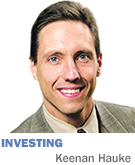 In some cases, people are dying. In others, they are simply getting insulted.
In many parts of the world, including the good old U.S. of A., protests are breaking out, and the implications are a little deeper and longer-term than what many of us currently believe. On the surface, the reasons for the protests may seem different—food prices, political control or teachers' unions—but the main driving factor for all of the unrest is the same: money.
Unrest in Egypt flared up a month ago and since then the headlines and television screens have been filled with pictures of thousands of people protesting in public places. President Hosni Mubarak of Egypt, after ruling for almost 30 years, is gone.
In Libya, Muammar Gaddafi, a longtime thorn in America's side, is under pressure. He is responding in the way you would expect a dictator and bully to react, by murdering people.
Tunisia, Jordan and now Bahrain are all being swept up in a similar furor. I even read about a small protest in China with the people saying they were inspired by the uprisings in the Middle East.
World food prices hit an all-time high last month, which many experts blame for contributing to some of the discontent. In places such as Honduras and Guatemala, cheaper food might just be all the people are after. In Egypt and other Middle Eastern countries, declining oil exports are a big culprit, but high food prices are playing a factor. In Wisconsin, 70,000 people are arguing about collective bargaining rights for the teachers' unions, but the subject wouldn't even be up for discussion if the state's coffers were flush with cash. The teachers most likely see an attack on the union as an eventual restriction of their paychecks. That's the last thing you want in times of rising prices.
Sometimes it pays to take a wider perspective. Let's take a step back and look at our current situation from a few miles up and see if we can tie any of this together, and more importantly, make it work to our advantage.
Just about every country in the world, with the exception of Australia, is strapped for cash. Some state and local governments are so tight right now that they are practically begging for mercy. From a government perspective, there is no more money.
Our friend Ben Bernanke, chairman of the Federal Reserve, believes in the command-and-control economy. His policies have sunk interest rates down to zero, forcing most central banks around the world to lower rates as well. This has caused a massive reflation of assets (perhaps unnaturally so). A little more wealth around the world has created a lot more demand for basic necessities, hence the inflation. The inflation is hitting the weaker parts of the world harder than others, hence the protests. The bull market in stocks is expected to last another year or longer, hence the very real possibility that these protests are going to increase in frequency and intensity.
From this point on, the inflation picture will be a combination of reality and a little bit of self-fulfilling prophecy. Prices are rising because of higher demand and the difficulty of quickly feeding that demand. The higher prices are going to continue to cause unrest in different parts of the world, which will create more scary headlines. Scary headlines will cause people to hoard a little bit and, on a global basis, a little bit of hoarding can go a long way.
The headline-generating fear will feed into the inflation picture as well. All this means keep buying stocks and commodities on dips because this cycle should continue for another year at least, and possibly longer.•
__________
Hauke is the CEO of Samex Capital Advisors, a locally based money manager. His column appears every other week. Views expressed here are the writer's. Hauke can be reached at 203-3365 or at keenan@samexcapital.com.
 
Please enable JavaScript to view this content.