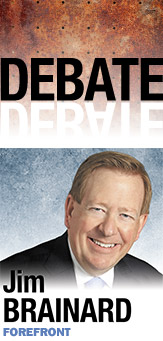 Question: What role do you see Indianapolis playing in the future of Carmel?

Answer: We are partners with Indianapolis, as are all the communities of the surrounding metropolitan area.

As our region competes in the global marketplace, we need amenities that attract companies and their workers. Central Indiana does not have the geographic attractions of an ocean or mountain range, so we need to focus on the built environment, offering recreational, entertainment and cultural opportunities.

Indianapolis provides the majority of the region's amenities of this type, but the nearby cities can also enhance those options.

Carmel has focused on creating a regional amenity in its launch of The Center for the Performing Arts. One of its venues, the Palladium concert hall, provides citizens of Indianapolis and the surrounding communities with a unique concert hall that doesn't compete against the existing Murat Theatre and Clowes Hall.

Indianapolis will always provide a vital leadership role in the regional planning process that includes our transportation network, environmental management, investment in infrastructure, and the coordinated delivery of public safety and social services.

The region benefits from the large infrastructure projects undertaken by Indianapolis such as the international airport, professional sports facilities, and cultural amenities such as the museums and performance venues. These are clearly an advantage to Carmel and the surrounding region as we work to attract business and pursue economic development.
Likewise, Carmel's responsible approach to economic development and fiscal management provides Indianapolis with additional regional benefits such as a highly educated labor force, regional arts and cultural amenities, public parks and an innovative traffic system, using roundabouts, that reduces congestion and air pollution.
Carmel has long taken a regional approach to economic development through its support of the Hamilton County Alliance, which coordinates business development activities in our county with other area economic development entities. This long-standing relationship has proven to be an excellent investment for Carmel while avoiding growing the size of city government.
The solid, cooperative relationship we have with Indianapolis has depended on active communication between the chief executives. Indianapolis has benefited from leaders who understand the priority of infrastructure, transportation, public safety, work force development and fiscal prudence.
We tend to measure quality of life and prosperity gains in terms of economic development success. However, our economies are not necessarily defined locally, but by the regional labor market.

Real estate, transportation, finance, work force and natural resources are not defined by civil government boundaries, but regionally, and Indianapolis provides a competitive, collective advantage for Carmel.
Indianapolis and Carmel should continue working together to recognize and respond to the unique needs of each city and support each other in the formulation of public policy that will maintain strong balance sheets, low taxes and high quality of life.•

__________

Brainard, a Republican, is running for re-election as mayor of Carmel. Send comments to ibjedit@ibj.com.