As a former bike racer, I'm a little ashamed that I live only two miles from my office but have never commuted via cycle. Call me lazy, call me a wuss, but I've just never been able to wrap my mind around the logistics of the idea.
How do I look (and smell) decent once I get to work? Won't my clothes get wrinkled? And where on Earth would I stow my bike?
To clear up these mysteries, I trailed veteran bike commuter Don Jerrels, who's been peddling to work for some 20 years.
I felt reasonably prepared when I pulled into Jerrels' Carmel home at 5:30 a.m., except, of course, for the sleepy haze still hovering around my conscious. I'm not a seasoned cyclist (or a morning person) by any means, but my year as Butler University's wimpiest cycling team member back in 2006 left me with a really nice bike, some basic gear and enough knowledge to be dangerous.
When Jerrels' wiry frame hoisted the garage door and gave me a once-over, his expression told me my presentation earned about a C+. Turns out he'd anticipated some inadequacies on my part and led me to an impromptu workshop in a corner of the garage.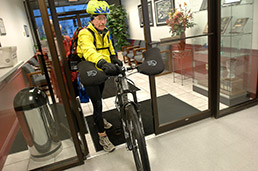 Jerrels, who works at Peerless Pump, has gained a wealth of experience wending his way through favorite streets and around gaping potholes. (IBJ Photo/ Perry Reichanadter)
From a towel spread across the hood of his wife's SUV, he selected a white light for the front of my bike and a red blinking one for the back. He wrapped a neon yellow band, also with blinking red lights, around my ankle and asked if I was warm enough.
In my thin thermal under-layer and a logo windbreaker left over from the Butler days, I admitted I was not.

"People don't like bikes on the road; we might encounter some key hand gestures, honking or even rude comments," he said. "All of that's good. It means they see us."
"Don't worry," he said, handing me a thin but dense fleece jacket, "I have an extra of everything."
As he handed me a pair of clear glasses, to keep the wind out of my eyes, he filled me in on what I could expect.
At least there's that, I thought with mounting anxiety, looking out into the pitch-black morning.
We were about to embark on a 20-mile commute to Peerless Pump at 20th and West Dr. Martin Luther King streets, where Jerrels sells chemical pumps from a cubicle. There, he keeps two weeks' worth of clothing and showers in the on-premise locker room. Those who don't have such facilities, he says, tend to wash up with a towel at a sink.
"If you towel off until you quit perspiring, there won't be any body odor," he said.
All of a sudden, I was picturing myself in the ladies' room at IBJ's offices, dabbing my armpits with a cloth. Not likely, I thought.
That particular morning was 42 degrees, which Jerrels admits is too chilly for most, but the temperature doesn't faze him. In fact, the only thing that does is ice, at least since he broke both his arms during a slick commute two years ago.
(Sidenote: Eli Lilly and Co. supports dozens of bicyclists who commute to its downtown campus, supplying shower facilities, storage and more, as recounted in the video below.)
We made our way to 96th Street via College Avenue, where we picked up two other commuters Jerrels rides with frequently. From there, we took Westfield Boulevard to Broad Ripple Avenue and stopped at McDonald's for a cup of coffee and to scoop up another cyclist.
The group, all over age 50, discussed who in the cycling community had broken what bone and when and I watched the parade of cars march past the drive-through window. I felt tough, with my wind-whipped cheeks and tingling thighs. Enjoy that Egg McMuffin, I thought. Twenty minutes later, we were back on Westfield until Capitol, which we took downtown.
Along the way, Jerrels made hand signals to note patches of uneven road, of which there were a lot. And we didn't encounter any hostility, only encouragement.
Motorists honked a friendly beep-beep, schoolchildren waiting for the bus shouted "Hi!" and pedestrians waved with a smile. I smiled, too, realizing how much more pleasant the ride was than my usual drive. Did I miss Bob & Tom and the hunt for a parking spot? Not at all.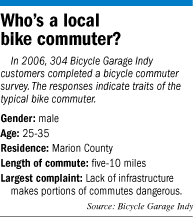 When we arrived at Jerrels' office at 8 a.m., we carried our bikes up some stairs and wheeled them through a room full of cubicles to another, much darker room full of filing cabinets. Jerrels assured me no one would bother them there.
He unpacked his backpack, where he keeps spare tire tubes, a tool kit and other replacement parts. He pulled out two apples, a banana, some pretzels and a sandwich—one of five lunches he carries in at the beginning of the week.
From there, I left Jerrels and rode to my apartment to clean up. I realized my brain and body were buzzing with energy; in fact, any shroud of fatigue had been shed back around 86th Street.
As I write this with a sore behind and bruised knee from a spill up on 136th Street, I'm pretty sure a bike commute is worth a try. But I think I'll stick to my two, measly miles.•
Please enable JavaScript to view this content.