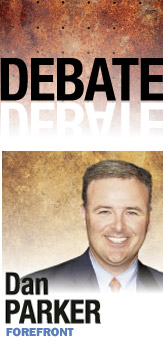 Question: Should Gov. Mitch Daniels run for president?
Answer: As the end of his eight years in office approaches, Gov. Mitch Daniels has caught the eye of some national Republican establishment types who are desperately seeking someone—anyone!—to lead their party out of Era Palin, a time in GOP politics that's been defined by intraparty purges and hyper-conservative rhetoric.
These national commentators repeatedly say they're looking for a fiscal conservative who's moderate on social issues and can appeal to those in the center with old-fashioned, pragmatic Republican values.
Sounds like every campaign commercial Mitch Daniels has manufactured.
The reality, however, is that waltzing onto the national stage can quickly turn a legitimate contender into a heaping pile of yesterday's news.
There are three main reasons Daniels doesn't go "all in" in 2012: primary, press and past performance.
Let's start with the primary. While Daniels has cultivated a loyal group of political insiders in this state, he's in no way prepared to do battle with the big dogs, some of whom have been out there running since they lost in 2008. He is not doing any of the advance work in states like Iowa or New Hampshire. Straw polls bear out that he's not well-known and he'd have a hard time appealing to a base of Republican voters that seems to be drifting ever rightward.
Daniels has gone through the motions to appease the far right, but he hasn't gone out of his way to champion their agenda. To his credit (yes, I'm saying something positive), the governor told the far right to take a timeout on their drive for everything that classifies as a wedge issue. But, this is not the kind of principled stand that gets one bonus points in a primary race. Other 2012 candidates come to the race better situated to attract the social conservative voters.
As media coverage goes, Daniels has earned his share of embarrassing headlines—sweetheart deals, ethics scandals, canceled contracts, fabricated jobs announcements—but has largely batted away any drumbeat of criticism.
That all changes the minute he puts his record out for the national press corps to analyze and the "aw, shucks" veneer that's worked for him here begins to fray under more persistent pressure. And, his temperament will work against him in the unscripted environments of Iowa and New Hampshire.
Finally, every action Daniels has ever taken will get a second look, and there are plenty of people, both media and non-media, who will pore over his record, including time he spent working for former President George W. Bush and the decisions he's made as governor.
Particularly troubling for primary voters will be Daniels' disastrous budgets of 2001-2003, state tax increases and proposed tax increases, failed privatization efforts, and his propensity to exaggerate economic development accomplishments. Indiana's unemployment rate is high, and workers are making less money than their counterparts in other states while paying higher sales taxes.
Ultimately, I suspect all this presidential talk is much ado about nothing, but Daniels isn't tamping down the speculation because it doesn't hurt to be talked about. He may even be angling for the veep spot, a competent lower-wattage partner for a high-profile Republican nominee in search of balance on the ticket.
If we all take a step back, Daniels or not, it's readily apparent that Republicans are in trouble next year. There's not a single strong nominee in the field, and President Obama's poll numbers are on the rise, along with a building American economic confidence.
A party fighting itself is unable to focus on a presidential race, and it's going to take more than one election cycle to repair the damage done by Team Palin.•
__________
Parker is chairman of the Indiana Democratic Party, and was state director for former U.S. Sen. Evan Bayh. Send comments on this column to [email protected].
Please enable JavaScript to view this content.