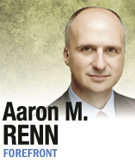 Much of the anxiety around human capital in places like Indiana revolves around the so-called "brain drain," or loss of educated young people after they leave school. But while many would-be brain-drain plugs are without question valuable, especially those focused on boosting education, the problem is actually much more complex than that simple idea suggests.
First, a lot of the regions and states that have bled population don't have especially high out-migration rates. My research based on IRS tax return data shows that Michigan, Ohio, Illinois and, yes, Indiana, rank among the bottom 10 states in America for out-migration rates. The problem is that many of these states perform even worse at in-migration, such as dead-last Michigan. Indiana isn't doing much better, though metro Indy is a bright spot.
The real problem is less a matter of too many people leaving than too few people coming. People are constantly leaving Manhattan, but it remains full because there's a constant stream of newcomers rolling in behind them. That human capital circulation is what's missing in the Midwest. Without that healthy churn, the talent pool stagnates, with predictable results.
Brain drain also almost implies that the only people who would want to live in Indianapolis are those who were born there or went to school there. But Indy needs to be more bold in believing that even people with no connection might want to live there. Don't sell the city short, and don't be afraid to go out and compete in the marketplace.
Indy is no longer a sleepy, backwater state capital. While it certainly has a way to go in some departments, it is at the point where it can compete at a much higher level than many think. Indy has a lot to offer in the here and now, and is only going to get better over time.
And think about this: There are only 1.7 million people in the region to retain, but there are 6 billion people out there in the world to attract. What pond would you rather be fishing in? Silicon Valley didn't get to be the high-tech capital of the world by retaining the graduates of Palo Alto High School. It got there by hoovering up everybody else's talent.
If people leave Indiana because they can't find a job or because they don't believe there's a place for them there, that's a tragedy. But not everyone who grew up in Indiana wants to stay. Some people want to see the world or live in different environments. Some will come back and others won't. As long as it is what they want and not because they felt they had to leave, there's nothing wrong with that.
If they come back, possibly with new recruits in the form of the new families they bring with them, Indiana is enriched by the experiences they had in other places. Even if they go, all is not lost. Rather than thinking of them as the ones that got away, better to see them as Indiana's field sales force, spreading the good news about the Hoosier state.
In a globalized economy where networks are more important than ever, seeding other places with expatriates isn't such a bad strategy. Ask India and China how it is working out for them, for example. A lot of their growth is fueled by connections to their diaspora communities.
The Internet technology community has long valued sharing of information and resources, knowing that this adds to what both sides have. In the new economy, hoarding of information is counterproductive. Similarly, trying to hoard talent because you are afraid to lose it is like the person from the parable of the talents who literally buried his talent in the ground for the same reason. We all know what happened to him.
Cast your bread upon the water, and after many days you will find it again. Give, and it shall be given unto you—pressed down, shaken together, running over.•
__________
Renn is a former Indianapolis resident now living in Chicago who writes the Urbanophile blog, one of the nation's leading urban policy websites. Send comments on this column to ibjedit@ibj.com.
Please enable JavaScript to view this content.