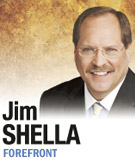 I've developed a routine. When I go to the store and buy a bottle of wine and the clerk asks me to provide photo ID (a request made mandatory by the state law that took effect last summer), I say, "It's a close call." Sometimes he or she will respond, but usually there is silence as the clerk tries to decide if a birth date in 1954 makes me older than 21. They don't seem to see much humor in their new responsibility.
In fact, some of the same people who created the new ID law have declared it "silly" and "stupid." That's why the General Assembly is taking steps to change it to require ID only if someone buying alcohol looks to be 40 or under.
Recently, a gentleman in front of me at the store (and significantly older than I) announced that he didn't mind showing his ID. He compared the ID request to security at the airport and said that if it helps keep him safe, he doesn't mind. Shopkeepers will tell you it has cut down on attempts to purchase alcohol by underage drinkers and that may keep all of us safer.
It means there is an argument in favor of the statute.
Yet I have trouble finding an argument in favor of another law that has produced no outcry from the public. It's the one that prevents a candidate for governor from raising money while the General Assembly is in session. It's the one that caused GOP congressman Mike Pence to stop short of declaring a bid for governor when he ruled out a campaign for the White House. Instead, Pence says he will contemplate a run for re-election to Congress while he tests the waters in the race for governor.
Pence did the smart thing. He can (I don't know if he will) raise money for Congress and later transfer that money into a campaign for governor and, therefore, circumvent the new law. Even if he doesn't do that, no other potential challenger can raise money, either, so he is not giving up an advantage.
This law came about when, in an effort to address ethical concerns, lawmakers banned their own fundraising during the legislative session. When they realized the governor could still raise money and buy ads to influence their work, they included statewide officeholders in the ban. They didn't calculate the current circumstance that encourages Pence and others to mislead the public. Democratic congressman Joe Donnelly is also considering a run for governor. Because it makes sense to wait and see what his new district looks like, along with the fundraising limitation, he will sit tight until May.
A law designed to make politics more transparent has given politicians a reason to hide their motives, their actions, and wink at the public in the meantime.
Consider also if you're a potential candidate for governor and you don't have a federal fundraising account. It means you have no ability to circumvent the law and you are potentially placed at a severe disadvantage, unable to raise money while others do. The playing field is far from level.
Lobbyists will tell you that other portions of the new ethics law are also problematic. The $50 limit on reportable gifts to lawmakers (down from $100) has lawyers all over town trying to figure out how to stay within the law and out of the public documents that prompt news stories about efforts to buy influence. How do you report a bottle of wine shared by several dinner participants? What about appetizers? Do you put them on one person's account? Or calculate fractions of the cost for each individual? Those conversations are taking place.
The gift reporting causes a different level of concern than the portion of the law on gubernatorial fundraising, for sure. But any law designed to inform the public that encourages efforts to hide things is misguided.
It's at least as stupid as the alcohol/ID law and potentially a lot more significant.•
__________
Shella is WISH-TV Channel 8's political reporter, as well as host and producer of the Emmy-nominated "Indiana Week in Review." Send comments on this column to ibjedit@ibj.com.
Please enable JavaScript to view this content.