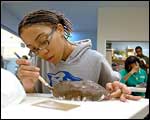 An Indiana Senate committee plans to vote Wednesday on a proposal aimed at expanding charter schools after hearing from the public on the bill last week.
But if the Republican-ruled Senate committee approves any changes to the bill, it could complicate the proposal's future. Any new changes would have to win approval from the GOP-led House, which Democrats are currently boycotting. If the Democrats continue to boycott long-term, that could jeopardize the bill.
Charter school supporters are hopeful that that won't happen, however. The version of the bill that has already passed the House would expand and financially help charters, which are public schools free of many state regulations.
Supporters say charters are an alternative choice for families, while opponents say the bill would siphon money from traditional schools.
Please enable JavaScript to view this content.