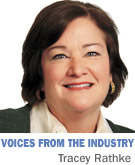 Twenty years ago, when I took my job as director of human resources, I didn't spend much of my working day worrying about politics. What went on in our nation's capital had little impact on my daily tasks.
Now, with health care reform, I pay a lot of attention to Washington, D.C. In the last couple of years, I've spent more time watching votes, reading bills and checking for new "regs" than ever before. I've learned to use the word "grandfather" as a verb. And I've learned to sit in a holding pattern, waiting for Washington to settle on a course.
When I started, human resources could have been called employee services. I helped employees deal with payroll questions and benefit issues, often helping them decide which of the great, inexpensive benefits they should choose, and how to coordinate their various options.
Slowly, though, as health care costs climbed, and the impact on profits increased, CEOs and chief financial officers everywhere started asking, "What can we do to lower our health care costs?" Departments went into trimming mode, working to offset increasing costs without hitting employees too hard where they noticed it most: in their take-home pay.
Then along came health care reform, turning the world of employer-provided benefits upside down. Since the majority of Americans receive their health coverage from an employer, that's a pretty big world to upset.
For me, at a firm with nearly 250 employees in Indianapolis, Chicago and St. Louis, nearly $2 million in insurance premiums, and a number of employees who own shares of the firm, a key issue was whether we would seek to maintain the bulk of our existing plan under the "grandfathering" provisions of health care reform.
Especially important was understanding how our nondiscrimination status might be affected by reform and any changes we would make to our plan. On this issue alone, I spent what seemed like hours huddled with consultants and read through reams of materials.
We ultimately decided against grandfathering, but quickly realized that was only a part of the issues we needed to address. To gather all the information I could on these and other reform issues, I spent days in reform seminars and workshops.
In the course of this process, we saw that not everything coming from reform is bad. For example, a lot of our employees, many of whom are established professionals, were pleased to see the addition of coverage for dependents to age 26.
It also gave us opportunity to talk with employees even more about high-deductible, health-savings-account-style plans. Anticipating that such plans would be coming in the future regardless of reform, we already had been tiptoeing in that direction.
Meanwhile, as I have wrestled with all these variables, I've also had to help employees prepare for reform by becoming better health care consumers. I know that, regardless of health care reform, the health care decision-making burden is shifting to employees—reform simply seems to have accelerated that shift.
As this evolution continues, we work to help employees see they will have greater responsibility for evaluating health care costs, shopping for the best prices, and paying attention to how much they spend and where they spend it. They'll have to ask, "What's better? More in the paycheck every other week, or more coverage if you get sick?"
In other words, in the new benefits world, they'll have more freedom and more control over their costs, but they'll have more responsibility for making their own decisions. That means an even bigger part of my job is to inform and educate employees and help their families meet their needs and solve their problems.
The most frustrating part of all this? It's the fact that, even after all these months of studying, learning and plan-tweaking, thanks to the changeable nature of Washington politics, we really can't be certain where reform is headed. We're stuck in a holding pattern, with the real risk that, once it all becomes more defined, we can expect to spend hours and hours more on that same kind of process.
That means more time spent worrying about matters like slow-to-arrive regulations and the latest vote on Senate Bill Whatever. These days, it's all part of the job for an HR professional.•
__________
Rathke, SPHR (certified Senior Professional in Human Resources), is director of human resources for BSA LifeStructures in Indianapolis. Views expressed here are the writer's.
Please enable JavaScript to view this content.