Anyone who shops for items such as shower curtains and baby bottles these days is likely to see labels that read "PVC-free" or "vinyl-free."

Major manufacturers and retailers are shunning polyvinyl chloride, a plastic that until the mid-2000s was found in everything from piping to inflatable toys. That's a welcome trend at Genesis Plastics Welding, a Fortville company whose proprietary technology allows it to work with PVC alternatives.

Genesis has grown its sales sixfold over the past decade and will break ground this spring on a $3.3 million expansion to double its manufacturing space. CEO Tom Ryder is counting on the anti-PVC trend to fuel more growth.

"I would love to see if we could double the business between now and the next five years," Ryder said. The 41-year-old took over the CEO post last summer from his brother-in-law, Rudolph Smith.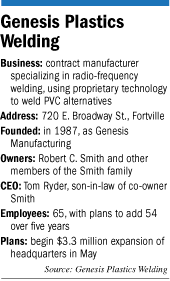 Smith's dad, Genesis founder and Chairman Robert C. Smith came up with the company's proprietary technology, called "ecoGenesis," in the late 1980s. At the time, environmental activists railed against PVC for its toxic side effects, but the U.S. didn't ban it, and the plastics industry wasn't ready to abandon an old standby.

Fast forward two decades, and the list of alternative plastics reads like a crash course in polymer chemistry. Companies that are phasing PVC out of their products include Apple, Little Tykes, Target and Wal-Mart.

"It's a different market today," Ryder said.

Genesis comes into the picture as a welding specialist, using radio frequency to seal together pieces of plastic film. (Radio-frequency welding is similar to a microwave oven in that it heats material from the inside out.)

One drawback to typical RF welding is that it works only on PVC and plastics with similar properties. But the ecoGenesis technology makes the process work with non-PVC plastics.

"It's potentially a big deal," said Tony DeLigio, senior editor at Plastics Today. The industry has already seen the effects of consumer backlash against another plastic ingredient, bisphenol A or BPA, he said. "There was a de-facto ban, just by retailers moving away from it."

PVC is ubiquitous because it's easy to use. To make it pliable, manufacturers add plasticizers called phthalates (THA-lates). The problem is that those additives leach into the surrounding environment. And burning plastics, as in a medical-waste incinerator, creates the toxic chemical dioxin.

Although there are other ways to weld non-PVC plastics, Ryder claims ecoGenesis is the cheapest and most efficient. Genesis uses the technology in half of its contract orders and licenses it to other manufacturers. The licensing is an important factor in the company's profitability, Ryder said.

Ryder declined to disclose sales figures, but DeLigio estimated the company's revenue at less than $50 million.

Genesis is still small, but it has caught the attention of at least one big player in the industry. A subsidiary of Ohio-based PolyOne, a $2 billion resin supplier, announced last fall it would collaborate with Genesis in offering a new material for medical intravenous bags.

It's evident as soon as one sets foot on the manufacturing floor that much of Genesis' growth in the past decade stems from a push into the medical industry.

At one quality-control station, an air compressor continuously inflates and deflates blood-clot-prevention cuffs. Ryder walks to another station and picks up what looks like an eye mask divided into a dozen pockets. It's actually a cap that, when filled with cold water, reduces brain swelling in newborn infants.

One reason for Genesis' upcoming 27,000-square-foot expansion is to accommodate a new clean room for a customer that makes surgery kits. The current clean room, where Genesis makes disposable sleeves for surgical tools, runs in three shifts. Genesis expects to grow its head count from 65 to 119 over the next five years.

A major challenge will be the medical industry's slow pace of change. Even introducing new materials to an age-old product such as I.V. bags requires regulatory steps.

"They have to revalidate everything," DeLigio said.

Medical-device makers like to keep all aspects of their production under tight control, so the opportunities for contract manufacturing aren't as numerous as they are in automotive, DeLigio said.

Genesis has landed some big-name customers over the years. Before the recession of 2001, the company made a gel bladder for Titleist golf shoes. One of its large customers today is Skydex, which makes padding for military helmets.

Genesis continues to test ecoGenesis on new materials, Ryder said. He recently hired an engineer with a chemistry background and wants to hop on the current wave in plastics, which is biodegradable and water-soluble—think poop-scooper bags and packets of dishwashing detergent.

"There's a lot of opportunity in the introduction of more environmentally friendly products," Ryder said.•