When Purdue University President France Cordova announced plans to spend more than $164 million to construct a Life and Health Sciences Quadrangle at the West Lafayette campus, she talked about bringing together researchers into a common space and promoting cutting-edge work in biosciences.
That's the big-picture view.
Look closer and you'll see a host of economic development opportunities that will benefit Tippecanoe County as well as the state of Indiana.
Purdue officials and others connected with the life sciences in Indiana say the quad ultimately will mean high-paying jobs, retention of highly skilled scientists, and researchers who might well have left the state for either coast. It's also key, they say, to creating companies that will provide support services and money flowing back to the university in research grants as well as from royalties and fees paid to license technology patented there.
"The university does not anticipate significant growth in faculty numbers," said Jeffrey Roberts, dean of Purdue's College of Science. "However, as the university's research portfolio—supported by grant dollars—continues to grow, there will be a need for increased researchers and support staff. Because Purdue's research enterprise will be enhanced, we anticipate a commensurate increase in research support flowing to the university."
"Purdue's existing strength in the life sciences is exactly the reason for a renewed commitment to bricks and mortar," Roberts said.
Over the next 10 years, Purdue plans to add or expand five buildings in an area south of State Street, north of Harrison, east of Russell, and west of University—all within the district of research spaces described in Purdue's master plan (www.purdue.edu/architect/campus_planning).
A $25 million Drug Discovery Building and $53.7 million Health and Human Sciences Facility will be the first buildings to be constructed. University trustees have approved financing for those projects, but ground breaking has not been scheduled. Scheduled to follow are: a $14.9 million expansion that will double the size of Discovery Park's Bindley Biosciences Center, which is dedicated to cancer research and life sciences; a $12.5 million acoustics research addition to Herrick Labs; and a $58 million Ag and Life Sciences Building.
The brick-and-mortar commitment Purdue is making is a reflection of how research is done these days, said David Johnson, president and CEO of BioCrossroads, which provides money and support to new and existing life sciences enterprises.
Twenty years ago, a typical university research team consisted of one professor leading a group of students and post-doctoral associates; today, the norm is to work in larger teams of several professors from several disciplines.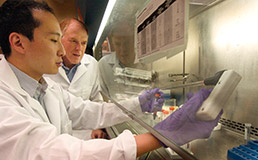 Philip Low, right, Purdue chemistry professor and officer of Endocyte, and former doctoral student Jun Yang co-developed cancer treatments through university research. (Purdue News Service photo/David Umberger)
"If you look at the facilities, they're talking about a Drug Discovery Building that will involve people with all different backgrounds—chemists, engineers, people with regulatory background, which Purdue is very strong in—and nanotechnology. All those things can come together," Johnson said.
What's particularly impressive about Purdue's commitment to life sciences is that the university does not have a medical school, Johnson said. Instead, Purdue's efforts are based around its strengths in engineering, in nanotechnology, in molecular chemistry, in animal science, "which are all terrific ways to participate in the life sciences sector beyond the traditional one of linking it to medical research."
"Purdue is able to compete and bring in huge amounts of federal funding without a medical school but with a life sciences strategy that's really bringing in a lot of other federal funding as well as philanthropic funding," he said. "It's a pretty amazing thing to watch."
The university hopes the investment in new infrastructure will build on its success. Over the past decade, its Discovery Park has launched more than 30 companies and hosted dozens more.
One of those companies is Endocyte, the biopharmaceutical company that develops targeted therapies for the treatment of cancer and other serious diseases. Endocyte's technology and therapeutic focus are derived from research conducted in the late-1980s and first published in 1991 by founder and Chief Science Officer Philip Low.
Today, Endocyte employs 50 people in Tippecanoe County and another 10 in Indianapolis—jobs filled by people with bachelor's degrees as well as doctorates. The company spends $3 million a month, a good portion of which stays in Lafayette, Low said. And Purdue owns Endocyte's patents.
Low said projects like the Life and Health Sciences Quadrangle are needed to attract top talent, develop spinoff companies like Endocyte, and extend the ever-important connection between industry and research universities. Universities, he said, need to find a way to replace dollars that are almost certain to be cut at the federal and state levels.
"We hope by building this center of biotechnology here to keep a lot of this talent in the state—keep their salaries in the state, keep their taxes in the state, keep their patents in the state," Low said. "There's a lot of merit to developing Purdue technology and keeping it in the Purdue area. Fantastic technology is being developed here in all areas—from engineering to agriculture to the medical sciences, life sciences and so forth. Typically, it's been sold to national companies and then it disappears into the international economy. We need to do a better job of capturing it and keeping it here in Indiana."
Suzanne O'Shea, an attorney with Baker & Daniels' FDA Practice Group, said with Indiana's academic resources—Purdue, Indiana University, Rose-Hulman Institute of Technology and Ivy Tech Community College—and anchor companies, including Eli Lilly and Co., Roche and others, the state is in a strong position.
"We're making very good use of the resources we have here," she said, "which is why the life sciences are growing in Indiana."•
Please enable JavaScript to view this content.