Whether it's gigantic portions, a spinning dining room, a few dozen varieties of cheesecake, or breakfast available all day long, it's helpful marketing-wise for a restaurant to have a hook—something memorable besides good food that keeps it top of mind.

Seasons 52 (8650 Keystone Crossing, 846-5252), the newcomer taking over the former Keystone Grill/El Torito Grill real estate in front of the Fashion Mall, has more than its share of such differentiators.

For one, there's the feature that helps define its name: The menu changes seasonally, with specials added 52 weeks a year depending on the fresh ingredients available.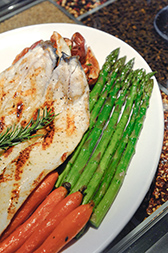 Like all entrees, the Rainbow Trout clocks in under 475 calories. (IBJ Photo/ Perry Reichanadter)
Another: Every dish clocks in at under 475 calories.

Need more? There's a piano player at the bar every evening. The desserts come served as Mini Indulgences, in double-shot shot glasses. And the salads fall out of a tube lifted from the bowl in front of you.

Seasons 52 is also the place with the delicious flatbreads.

That's what we started with on a recent visit—the Spicy Chipotle Shrimp Flatbread ($9.95), accented with grilled pineapple, feta cheese (a popular element this season) and roasted poblano peppers. On its crisp foundation, the flavors mixed nicely and every slice disappeared quickly.

Grilled Boneless Rainbow Trout ($15.95) also proved a lunchtime winner, with a substantial portion of broiled-lemon-squirted fish surrounded by clean and simple spring new potatoes, and roasted asparagus and carrots. The Oak-Fired Western Buffalo Burger ($9.95) held its own on a beef-free menu, served on a two-tier platter with guacamole, roasted pepper salsa, and spicy chili sour cream.

A trio of Blackened Fish Tacos ($10.95) was already flavored with the chipotle cream that also came on the side (along with salsa verde and pico de gallo). No complaint, but if chipotle isn't your thing, you might want to state that upfront. The combination stated in the name Wasabi Beets ($3.95) intrigued me enough to order a side, and while the creative mix didn't convince others at my table, that just meant more of the fresh combination for me.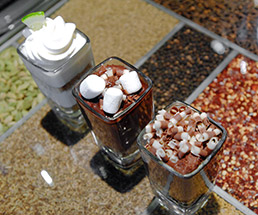 Mini Indulgence desserts arrive shot-glass style at Seasons 52. (IBJ Photo/ Perry Reichanadter)
Only a revisit, at which I tried the Spicy Chicken Chile Relleno ($8.95), proved disappointing. Using goat cheese, spinach and roasted corn cakes, the stuffed pepper dish was attractively presented but nonetheless lacked the promised spice. With a name like that, subtle shouldn't be a goal.

Back to the good stuff, there's always those Mini Indulgences ($2.50 each—I'm surprised there's not a special price to order them all). Pointed out on a platter one by one by the penlight-toting wait staff, the treats contain just enough good stuff without leaving you regretting your lack of resistance. Personal favorite: The Chocolate Peanut Butter Mousse. Or maybe the Old-Fashioned Carrot Cake …•
__________

Third in a month-long series of numeric restaurant reviews.