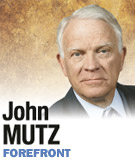 Changes of many kinds will soon engulf the Indianapolis Public Schools system when Tony Bennett, Indiana's superintendent of public instruction, applies the No Child Left Behind statute to the city's underperforming schools.
We got a preview of this activity when city superintendent Eugene White's contentious plan to reassign administrators at 12 schools was debated by the school board. According to White, the plan was aimed at cutting costs and meeting federal requirements for a series of grants that could be used to turn around failing schools.
The district had to take action because the schools' students had recorded six years of subpar test results. The federal rules require officials to "reconstitute" underperforming schools by removing the principals and at least half the teachers. Although some critics compare this change to rearranging the chairs on the Titanic, it does represent change.
While any action by Bennett will probably take place later this year, the situation requires a dramatic shake-up of IPS. The New Orleans school system, which endured almost total devastation due to Hurricane Katrina, may give us a model to follow. When given an opportunity for a fresh start, the city developed a combination of public and charter schools. Today, more than half of all public school students in New Orleans go to charter schools.
The charter school expansion bill now supported by Bennett and Gov. Mitch Daniels may give school officials at the state and local levels at least part of a mechanism needed to alter IPS.
While charter schools are no panacea for the problems public schools face, the ability to use charters in larger numbers is essential. Existing charters in Marion County have provided more than 10,000 families with an option that was previously unavailable. Some charters serve children with special needs and others have prodded existing public schools to add magnet school choices and other innovations.
Schools in the IPS system could be reconstituted in smaller units, some as charters, some as magnets, and some as regular neighborhood schools with new leadership. In any of the options, a substantial portion of central office revenue could be given to local schools so teacher salaries could be increased.
Each school would be an independent entity with its own board to monitor results, set basic policy and select the school's leader.
The central office of IPS would receive state financial aid and distribute the money on the basis of enrollment. The central office would also see that bond payments are made and would retain ownership of land and buildings. It also could provide some shared services such as transportation, maintenance and other services if authorized by the local school boards.
Accountability would be at the school level for the quality of the instructional program and fiscal soundness.
This kind of radical departure from the status quo would have seemed impossible to achieve just a few years ago, but when confronted with opportunity, school and community leaders in New Orleans came together with a creative solution in a school system that had desperately poor students and challenges far greater than IPS'.
Education policy debates are full of disagreements, which should not be a surprise since nearly everyone thinks they are an expert. After all, they all went to a public or private school and have firsthand knowledge.
In reality, education is a field where liberals, conservatives, Democrats and Republicans should be able to agree. For those on the liberal side, education can be seen as the great equalizer for society that can erase the power of privilege and wealth. On the other side of the spectrum, it is an institution that rewards merit, intelligence and hard work.
On this issue we should be able to get along when opportunity for change presents itself. In an effort to protect jobs, union dues or the status quo, special interest groups have often been able to sidetrack reform. That must not happen this time.•
__________
Mutz has held leadership positions, including lieutenant governor and president of Lilly Endowment and PSI Energy. Send comments on this column to ibjedit@ibj.com.
Please enable JavaScript to view this content.