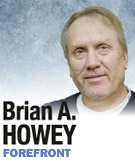 The awakening I had early in the morning on March 11 was jolting. Turning on "The Today Show," I was confronted with the terrible images of the Japanese earthquake and tsunami.
But there was greater irony. On my schedule that morning was a meeting with Hikohito Oishi, second secretary from the Japanese Embassy in Washington. He had come to Indiana to gauge the potential presidential campaign of Gov. Mitch Daniels as well as the potential political impact of the Tea Party movement in Indiana.
The political happenings in our state merited enough interest and curiosity that Oishi spent part of two days picking the brains of people participating in the political process here.
We kept to the original subject during most of our meeting in the lobby of the Omni Severin Hotel, but after I expressed the sorrow of my family for the victims of the earthquake and tsunami, Oishi calmly indicated that he knew his own family had survived but was awaiting much more information.
On March 13, Oishi e-mailed, "We are yet to know the full scale of the devastation, but we are trying our best, with the help from all around the world, to get over this tragedy."
After the first three days, it became clear what a stupendous disaster this had become. This hit home even further when I saw my friend Satoru Ogawa at a party March 15. He had been in touch with family, some of whom had literally outrun the tsunami waves on foot in Miyagi province, then watched their town wash away. On this day, Satoru was thankful to be among his many Hoosier friends, and frightened at the nuclear disaster in his homeland. It's important to note here that Satoru's job is with a moving company that caters to Japanese families relocating to Indiana.
"Business has been very good," Satoru told me.
What has become clear to me after visiting with Oishi is how important our Japanese friends and partners are to the 21st century Indiana experience. There are more than 230 Japanese companies operating in our state, employing more than 42,000 Hoosiers. Indiana ranks third among the American states in the volume of capital investment from Japan.
They include Toyota, Honda and Subaru—Indiana is the only state with three Japanese auto plants—but when you scan the list of companies that have settled here, bringing jobs and paychecks, they are scattered in places like Bluffton, Franklin, North Vernon, Topeka, Bremen, Liberty, Plainfield, Bern, Goshen, Markle and Carmel.
That's why you've seen Daniels lead annual trade delegations to Japan since he took office in 2005. It's a path begun by Gov. Robert Orr and Lt. Gov. John Mutz in the 1980s.
In 1983 there were only 18 Japanese firms operating in Indiana, according to the Sagamore Institute. Larry Ingraham of Sagamore noted how Orr and Mutz "courted Japanese business leaders, bankers and policymakers while convincing their Hoosier constituents that opening to the world and to Japan would be the best way to reinvest the state's struggling economy. It was a masterpiece of enlightened political leadership."
And one that should not be taken for granted. Indiana has had an inner battle between isolationists who wanted to keep outsiders out and internationalists like Orr, Daniels, Sen. Richard Lugar and former U.S. Rep. Lee Hamilton who worked to position the state globally.
In a time of our severe crisis—when Chrysler and General Motors teetered on the brink of liquidation in 2008-2009—it was Japanese industrialists from Toyota and Honda who pressed for the American government to intervene and save the 150,000 jobs associated with the American auto industry here.
Think about that: Toyota and Honda advocating the survival of GM and Chrysler.
It was not by accident that the Indiana State Fair hosted the first international exposition during its 2010 event and Japan was the first country to be featured.
So it was on this well-worn path that Oishi was in Indianapolis at the very time his country was enduring crippling blows from Mother Earth.•
__________
Howey is a third-generation Hoosier journalist who publishes Howey Politics Indiana. Send comments on this column to ibjedit@ibj.com.
Please enable JavaScript to view this content.