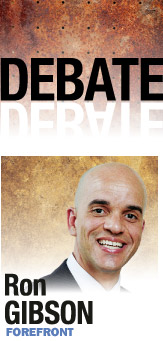 Question: What is one big idea from another city that you'd like to implement here?
Answer: A huge concept from another city that I would like to implement here would be the overhauling and expansion of the city's bus service known as Indianapolis Public Transportation Corp., or IndyGo. Charlotte, N.C., a city of similar size, operates approximately 325 buses with 74 routes on a budget of $110 million while IndyGo has an annual budget of $55 million with only 150 buses and 29 routes.
How does Charlotte run twice the number of buses on nearly three times as many routes as IndyGo? Money and management!
Why doesn't Indianapolis have a thriving bus system? The demand is there; ridership was up about 5 percent last year.
It's estimated that 20 percent of residents have no access to transportation. Transportation would add to the quality of life, and promote tourism and economic development.
Frankly, there is no excuse for this city's current mass-transit system. I believe the citizens deserve the amenity of a bus system to get anywhere in the city in a timely manner the way they should be able to depend on other basic public services such as police and fire protection. However, it boils down to dollars and management.
There is a lot of talk about IndyConnect, but there are too many obstacles, such as legislative approval and obtaining dedicated funding sources for the $10 billion price tag. Therefore, there will not be a regional mass transportation system within the next 10 to 15 years.

The IndyConnect concept assumes the city of Indianapolis will implement a significant expansion of IndyGo. So, why not start today?
IndyGo's current funding source depends on 25 percent to 30 percent of property tax revenue, plus state and federal funding and bus fares. Charlotte's bus system is mostly supported by a sales tax. Being realistic, no politician in his or her right mind would advocate for any tax increase in this economic climate. Thus, it will take creative sources of funding to grow IndyGo.
There are 10 school corporations plus 20 public charter schools that must provide transportation for students. In other major U.S. cities, students use public transportation to get to and from school. Why can't we promote the city's bus service for public schools, colleges and universities, such as the partnership with IUPUI? A series of agreements that contract school bus services would help school corporations' shrinking transportation budgets and greatly enhance IndyGo bus services.
For initial expansion capital, a portion of the monies from the sale of the water company should be directed to IndyGo to reduce the amount of wear and tear on the streets and roads by promoting use of the city's bus system versus automobile usage. While the current administration has been creative in funding the Capital Improvement Board and other projects such as North of South using tax revenue, we should be as creative in growing a necessary amenity such as an adequate bus system that promotes a much more quality city and promotes economic development.
Marion and surrounding counties have scores of thousands of people who want to go many places at various times. With IndyGo, the only place you can go is downtown and, if there's a route to your destination, you might be able to get there. To get back, you must go downtown again and change buses again.
That archaic routing was necessary in the days of trolley cars and electric buses; we must modernize. This requires some money, of course, but more important, a customer-centric approach to meeting the needs of citizens and visitors alike. Use of tax dollars is sadly necessary to provide the meager bus service of today.
My administration will pursue every avenue to grow IndyGo into a quality service that will be the envy of cities everywhere.•
__________
A consultant, Gibson is a former City-County councilor and a candidate for the Democratic nomination for mayor of Indianapolis. Send comments on this column to ibjedit@ibj.com.
Please enable JavaScript to view this content.