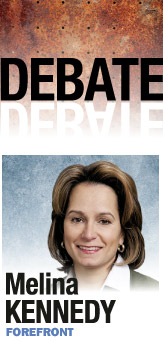 Question: What is one big idea from another city that you'd like to implement here?
Answer: As a young man, my father left the shores of Greece for the hope and opportunity of America. Once here, he worked to realize the American dream: start a family, work hard and save enough money to start his own business. I watched him and my mother build a small business together—a restaurant where I worked as a waitress and spent many hours with the family.
Unfortunately, my father has passed on and the restaurant is long gone. However, the memories and, more important, the lessons learned from those days are with me today as my husband and I are realizing our own dreams of having a family and building a business of our own (BlueMile).
As I reflect, I feel grateful that I was encouraged to work hard, be creative and entrepreneurial, but equally important, I was encouraged to be engaged in the community, and to take the initiative and action in areas where I believed I could make a difference.
These lessons carried me successfully through school, made me the first woman in my family to earn a college degree, and continue to provide me a strong foundation for other areas of my life: from parenting, to owning a business, to serving our city.
When asked to write an editorial about "one big idea from another city" that I would like to implement in Indianapolis, I could not help but return to those early lessons learned. It made me stop and consider how we can do more as a community to encourage our city's greatest asset—our children—to be ready to make a difference in our city, while also helping them develop the skills to be innovative, problem-solving and ultimately successful in pursuing their own dreams.
Seattle has partnered with Ashoka, an organization that is a pioneer in the field of social entrepreneurship, to establish a comprehensive Youth Venture program. This program encourages young people to take initiative and develop solutions to social needs.
The Youth Venture Program cultivates social innovation talent by helping young people launch and run their own community-benefiting ventures. These teams of young social entrepreneurs work with adult volunteer allies to develop a business plan for their venture. That plan is evaluated by a panel of community leaders and, if approved, the team receives seed funding to launch their venture.
These young social innovators learn many skills including how to develop a business plan, lead a team of peers, and set and achieve goals.
The experience can be transformative for young people who recognize their power to solve social problems and needs, while teaching skills that will remain with the young person for their entire life.
Youth Venture teams are supported by a variety of organizations, including public schools, private schools, universities and not-for-profits. The city of Seattle has incorporated this innovative program into its Youth Violence Prevention Initiative and made it a component of its comprehensive economic development plan.
Our city has great opportunities, but also faces great challenges. We must equip our residents from early ages with the abilities needed to seize the opportunities and overcome our future challenges.
If we can find meaningful ways to engage the ingenuity of every young person and give them the skills and experience to succeed—and to become problem-solvers—we will, along the way, position Indianapolis for success in this 21st century. While there are no silver bullets that solve all our challenges, there are novel approaches and programs—like the Seattle/Ashoka partnership—that provide real opportunities to build our city's capacity for greatness.•
__________
Kennedy, a former deputy mayor of Indianapolis, is running for the Democratic nomination for mayor. Send comments to ibjedit@ibj.com.
Please enable JavaScript to view this content.