WXLW-AM 950 wasn't supposed to survive in the sports-talk sector beyond 2008, when Emmis Communications Corp. joined the fray with WFNI-AM 1070.
WXLW was out-manned and out-promoted by WFNI, which launched early that year, and by the market's other sports-talk station, WNDE-AM 1260, which is owned by San Antonio-based broadcast behemoth Clear Channel Radio.
Adding insult to injury, shortly before launching in the space formerly held by WIBC, WFNI swiped WXLW's ESPN Radio affiliation. The top syndicated sports-talk shows in the United States vanished from the 950 AM airwaves. Gone were "Mike & Mike in the Morning," "The Colin Cowherd Show" and "The Scott Van Pelt Show."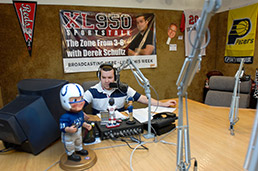 WXLW's Derek Schultz has his hands full competing against JMV and Mark Patrick. (IBJ Photo/ Perry Reichanadter)
Suddenly, the future of WXLW was in question.
"With the size of this market and the competition, I'm not sure many people thought three sports-talk stations would survive long term," said Sue Doron, media director for EchoPoint Media, the media buying arm of ad agency Young & Laramore. "WXLW was put in a difficult position, and I'm not sure how they're surviving."
Ball State University advertising professor Bob Gustafson said there must have been a "sense of panic" when ESPN dropped WXLW.
"There's an awful lot of value in an ESPN partnership, especially for a station like WXLW with limited resources," Gustafson said.
But lately there has been a sense of tranquility at WXLW, which is owned by New Palestine-based Pilgrim Communications and located in Franklin.
"It's something that happens, that's the business," WXLW General Manager Randy Tipmore said of losing the affiliation. "This station has been here a long time. We have our strategy. We put our head down and went to work."
"When they called to notify us about the change, I thanked them, and said if the door ever opens again, we'd love to do business."
Open it did. Eighteen months after getting its ESPN affiliation yanked, the Bristol, Conn.-based broadcasting giant offered to let WXLW run two shows WFNI opted not to air.
Now, Tipmore weaves together ESPN's No. 1 nationally rated show, "Cowherd," and its No. 3 rated show, "Van Pelt," with Sporting News Radio fare and local shows, including the afternoon drive-time program hosted by Derek Schultz.
Though he wouldn't disclose the station's financials, Tipmore said WXLW has remained profitable throughout the ordeal. Last year and so far in 2011, the station is experiencing double-digit percentage annual revenue growth.
That doesn't mean revenue didn't take a hit. Losing ESPN cost WXLW 10 percent to 15 percent of its ad base in 2009.
WXLW took another blow in May 2009 when local afternoon host Greg Rakestraw departed for a job with Hometown Sports Indiana. Undaunted, Tipmore replaced Rakestraw with Schultz, an Indiana University alum, who started with WXLW as an intern in 2005.
Schultz, 28, had to carve out an audience competing against WFNI's popular JMV show and WNDE's well-known Mark Patrick.
WXLW's financial rebound is surprising given industry trends. From 2007 to 2010, radio ad revenue declined more than 15 percent, according to BIA Financial Network Inc., a Virginia-based research firm.
Making the station's success even more improbable is its absence from the Arbitron ratings, which advertisers use to gauge a station's popularity. WXLW is one of only a few stations that don't subscribe to the ratings service.
"I don't know how [WXLW] does it," EchoPoint's Doron said. "So many media buyers base their buys on cost per [ratings] point. Ratings are also critical in the post-buy analysis."
Keeping expenses low is one way WXLW survives.
The station has only seven full-time employees. In addition to hosting a daily three-hour show, Schultz handles website operations and is promotions manager. The station's production director is also its No. 1 salesman.•
Please enable JavaScript to view this content.