The coffee smell dissipates. The signs drop from 25%-50% off to 40%-60% off. Shelves of books migrate from soon-to-be-closed-off sections to empty shelf space elsewhere, causing category labels to lose their meaning. Customers linger, wondering if a novel unworthy of their $24 might be worthy of $12. "Sold" signs appear on fixtures. "Everything must go."
This is how it ends for Indianapolis' only downtown full-service bookshop.
Sitting in the soon-to-be-gone chairs in the no-longer-brewing Borders café, I have mixed feelings about its demise. Part of that has to do with the fact that this Borders doesn't feel like the Borders that moved in just a few years ago.
Taking up high-profile real estate in 2001 in what had been—for a brief, silly time—the J. Peterman/Paul Harris space, Borders was a welcome addition to center city life. As the chain expanded nationally, many markets complained about how such places were killing independent bookstores. But downtown Indy didn't really have much to kill back then, except a ho-hum mall store and the specialized architectural bookshop.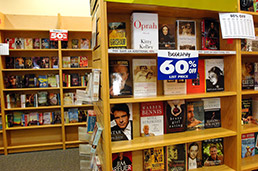 The finale for Borders' downtown location is just days away. (IBJ Photo/ Perry Reichanadter)
Borders didn't just bring to town a large selection of books. It brought the promise of a lifestyle center. Back then, each store had its own marketing and promotions person, committed to keeping the place hopping with activity. Remember bookstore events, author signings and concerts? Carrie Newcomer playing on the north side. Rhett Miller on the inside staircase downtown. Midnight Harry Potter parties. It was difficult to complain about a chain when it brought something new and exciting.
Soon, though, those store promoters were thinned out. One for each store became one for the area, then those were winnowed to one for the multistate region. For the last few years, Borders seemed to give up on its extracurricular activities, instead focusing on pushing coffee and discounted best-sellers. As such, it seemed to become a quieter, far less dynamic place—a place easily toppled by the combination of cheaper, online booksellers and more ubiquitous java joints.
But, no question, something is lost.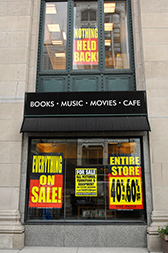 Closure means Borders blowout. (IBJ Photo/ Perry Reichanadter)
A digression: Through most of my young life, my hometown didn't have a bookstore. In that void, I created a de facto one by discovering my own route of drugstores, five-and-dimes, and anywhere else that each had a rack or two of paperbacks.
I bought many more books then than I do now. Part of that has to do with the feeling that, if I didn't buy it when I saw it, I might never have a chance to find it again. In a pre-Internet world, you didn't let your literary prey escape when you had it in sight.
Like a lot of readers, my purchasing patterns have changed over the years. These days, I'm much more likely to buy something found in the $1 section of Half-Price Books than I am to pick up a new fiction title in a traditional bookstore. Over the holidays this year, I made frequent shopping trips to the downtown Borders. But that's only because my e-mail in-box seemed to have a steady stream of 40-percent-off coupons. Making one purchase at a time, I covered a lot of gift-giving ground. But I surely didn't help Borders' bottom line.
As someone who writes books as part of his living, my own behavior appalls me. If I won't buy books, who will?
Of course, I know there are readers out there who still appreciate time spent with a good—or even a good-enough—book. As a writer and as a reader, I'm not giving up on the printed word, captured between covers (or, for some, on the electronic readers that I'm still resisting). Tonight, in fact, I'll continue work on my next book—but not until after I stop back at Borders to see if the prices have dropped again.•
__________
This column appears weekly. Send information on upcoming arts and entertainment events to lharry@ibj.com. Twitter: IBJArts and follow Lou Harry's A&E blog at www.ibj.com/arts.
 
Please enable JavaScript to view this content.