I have issues. I readily admit that—and I have a T-shirt that proclaims it to the world (or at least the sliver of the world I encounter when it comes up in my weekend leisure-wear rotation). I may be a hot mess, but I know that not everyone shares my neuroses, so I try not to let them influence my restaurant reviews.
But sometimes, those peeves can't help but influence the experience. For instance, when I met a friend for a Sunday lunch at Three Pints Brewpub (5020 Cambridge Way, Plainfield; 839-1000), we were led through the completely empty restaurant to a table directly across from where an employee was sitting, passing the time. To make matters worse, other workers gathered there to chat and then pose for photos at the bar.
Is it too much to ask that restaurant staff care at least a bit for the comfort of the patrons?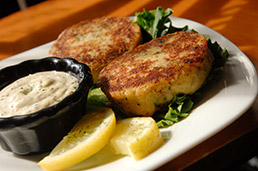 Maryland Blue Crab Cakes are a must at Plainfield's new brew pub. (IBJ Photo/ Perry Reichanadter)
Even so, we took a few deep breaths and tried to ignore the irritation to focus on the food. The quality of our appetizer, the Maryland Blue Crab Cakes ($8.99), helped.
Billed as the house specialty, the two hand-shaped patties arrived still steaming and literally bursting with crab meat. Sure, there were spices and presumably something that held everything together, but the crab was by far the star of the dish—as it should be. The cake was delicious by itself and, dipped in the spicy remoulade sauce, it went a long way toward improving our moods.
The sandwich selection is pretty standard, with a few exceptions like biscuit-battered catfish, beer brats and pot roast on a bun. We opted for one old standby—with a twist—and one less-common choice.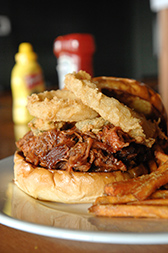 "Tobacco onions" top the smoky pulled pork sandwich. (IBJ Photo/ Perry Reichanadter)
At Three Pints, the Hickory Smoked Pulled Pork ($7.99) comes topped with "tobacco onions," a new term for both of us (which I misread as Tabasco onions, perhaps because our server warned us they were spicy). Near as we could tell, they're onion rings breaded with flour and spices before being fried. The result is a crumbly coating that an Internet search tells me is supposed to look like shredded tobacco. Looked and
tasted like onion rings to us. But they were a nice complement to the smoky pork and sweet barbecue sauce—as were the beer-battered jalapeno slices my friend added to her sandwich. The sweet potato fries she chose as her side dish were another solid offering.
I tried the Beer Brats ($6.99), which are marinated in Three Pints' own ale (the brewpub is making its own beer, but couldn't sell it yet during our visit) and grilled before being topped with caramelized onions and sauerkraut, all of which was nestled in a fresh-baked bun. I missed the ale-mustard option on the menu, or I would have had that, too. The sausage was excellent, offering the expected snap when I bit into it, and the oversized bun was even better. Y-U-M. I had beer-battered onion rings as my side, and they were good enough to order again.
Our plans for a liquid dessert were thwarted by the lack of house brew, so we left that for another time—when I'll be sure to ask for a table as far away from the break area as possible.•
__________
Last in a month-long series of numeric restaurant reviews.
Please enable JavaScript to view this content.