SHANGHAI—Steve Chapman cut his teeth in China buying frozen and canned vegetables for the Green Giant Co. in the early 1980s. Back then, he was one of only about 30 English-speaking foreigners living in Shanghai.
By the mid-1980s, he was working for Cummins Inc., building the engine maker's business in this vast nation more than a decade before many U.S. companies had even begun formulating a China strategy.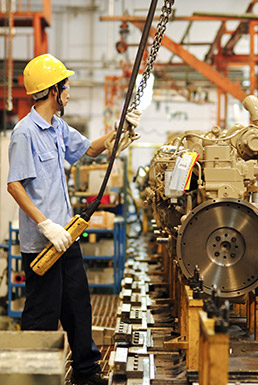 Cummins makes light-duty diesel engines in Beijing under a 5-year-old joint venture formed with Beiqi Foton Motor Co. Cummins has 10 joint ventures in China. (Photo/Cummins Inc.)
Now based in Beijing, Chapman oversees Cummins' sprawling Chinese operations, which employ 8,000 people and racked up 2010 sales of $3.1 billion—a 79-percent increase from the previous year.
The Columbus-based company, directly or through joint ventures, operates 14 manufacturing plants and two technology centers in the world's most populous country.
Thanks to its early arrival—plus some savvy business decisions along the way—Cummins is the largest foreign diesel-engine maker in China. And it has long-standing partnerships with key buyers of engines and components that are expected to power rapid growth here for years to come.
For example, Chapman negotiated Cummins' first deal with China's largest truck manufacturer, Dongfeng, in 1987. That blossomed into a joint venture, generating $1.4 billion in sales last year. In a nation where relationships are paramount, an ally like Dongfeng is invaluable.
The access Cummins has to the Chinese market because of its Dongfeng venture "is just uncopyable," Cummins President Tom Linebarger said at an analyst conference last year.
"There are many people today in our industry that would love to get access to markets like that," he said. "They've tried for 20 years to get in and haven't been able to get in."

Cummins' success in China, as well as in India and other emerging markets, stands as a textbook example of how Indiana companies can use globalization to their advantage.
Its strong presence in emerging markets allowed Cummins to weather the financial crisis in the United States with fewer layoffs than would otherwise have been necessary, company officials say.
And now that the world economy is in recovery mode, Cummins expects to add about 1,000 employees in Indiana this year, including some at a Seymour plant that makes high-horsepower engines for sale around the world.
Cummins expects 2011 sales to rise 20 percent, to $16 billion, thanks largely to strong performance in emerging markets. To support the growth, the company last fall bought the former Irwin Financial Corp. headquarters across the street from its own, and said it plans to hire 350 workers there within 18 months.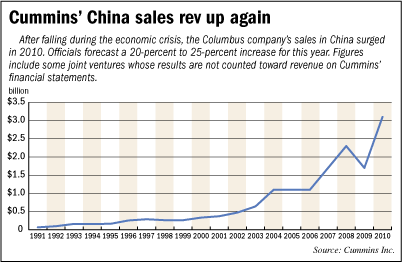 "As we grow outside the United States, it directly benefits Indiana," Cummins spokesman Mark Land said.
Long-standing relationships
J. Irwin Miller, the legendary former chairman of Cummins, visited China in search of business opportunities in 1975, years ahead of most U.S. executives. The company opened its first office, in Beijing, in 1979.
Chapman has been there almost from the start. He became interested in China in high school, when Communist Party Chairman Mao Zedong's disastrous Cultural Revolution was in the news. In college, he decided to study Chinese rather than the European languages most of his classmates chose.
After college, he spent four years with Green Giant before getting his MBA from Yale University. One of Chapman's first tasks after joining Cummins in business development in 1985 was to negotiate the first licensing agreement with Dongfeng.
He's known five Dongfeng presidents since the companies began doing business together. When it was time to negotiate one of the recent expansions of their joint venture, he'd known the Dongfeng executive on the other side of the table for years.
"We kind of knew what we wanted out of the partnership, and the whole negotiations for an entire joint venture took just four hours. One shot. Boom," said Chapman, 57, Cummins group vice president for China and Russia.
That reflects the business culture of China, experts on the country say.
"Once you develop that trust, it is very long lasting," said Kun Ma, who grew up near Beijing and now is director of the Indianapolis venture capital firm CHV Capital Inc.
Cummins' joint ventures in China give it ready-made buyers for as much as 70 percent of the engines, power generators and other products it makes in the country—market penetration it would have little hope of gaining on its own.
Cummins is far from alone in relying on joint ventures in China, but the structure of its agreements in the country is unusual.
Many U.S. companies want the upper hand in joint ventures and negotiate majority control. Not Cummins. Most of its joint ventures are 50-50, including all four of its engine partnerships in the country.
"We really feel 50-50 is really more of a long-lasting proposition," Chapman said. "If one partner is trying to control the other partner, most likely it will disintegrate at some point."
He added: "50-50 has proven to be very successful, and I think almost no other American company will try that unless they are forced to."
The joint ventures are like marriages, said Mark O'Connor, general manager of Cummins Filtration for the Asia-Pacific Region. He said he did not think any of the company's Chinese partnerships ever had unraveled.
Complete immersion
Cummins has 20 major technical centers spread across the globe—including the two in China—all of which work together.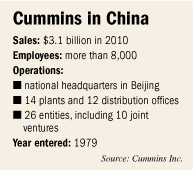 China's low labor costs make the country an attractive location for research and development. But more important, company officials say, employees on the ground gain an appreciation for what customers in that market need. In China, for instance, customers demand reliability, but they will sacrifice some durability for a lower price.
"Often what we would try to do is take a North American product and localize it and just sell it in China," Chapman said. "That is a way of minimizing engineering expense, but it doesn't maximize the market opportunity."
Another key: Cummins' operations in China don't feel like an outpost of a U.S. company. Chapman wants his executives to speak Chinese and be immersed in the culture. A management conference scheduled for May will be conducted in Chinese, for example, with simultaneous translation into English for the small minority of employees who don't know the language.
"We see a lot of companies that will send expatriates in for three years and then come back out. And they just don't know the language, they don't know the culture. They don't know the market," Chapman said. "It is a good experience for them, but it's very U.S.-focused."
Growth expectations
Cummins has transferred some Chinese workers to the United States. But it is difficult to give up manpower in China because the market is growing so rapidly. Cummins expects to add hundreds of workers in the country.
It continues to be a stunning business opportunity: China accounts for 50 percent of the global market for over-the-road heavy-duty trucks and 40 percent of the market for excavators. The country's infrastructure spending spree has stoked demand for engines. Mining and oil-and-gas companies also are major purchasers.
Since recording $30 million in sales in China in 1990, Cummins has roughly tripled revenue in the country every five years. The 2010 percentage increase was especially large partly because sales had tumbled the prior year amid the economic crisis.
Cummins officials expect a more modest increase in 2011—20 percent to 25 percent.
"It's still growth most people would kill for," Land said.•
Please enable JavaScript to view this content.