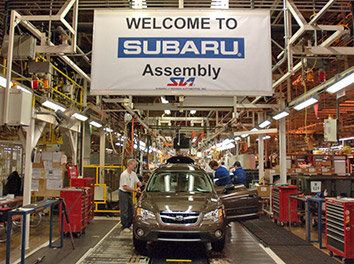 Subaru of America is slowing production at its Lafayette plant because of a temporary auto parts shortage caused by Japan's devastating earthquake and tsunami.
Subaru of Indiana Automotive Inc. spokeswoman Jennifer McGarvey said Monday that the company will be reducing its Subaru production shifts to the first four hours of each shift this Wednesday, Thursday and Friday.
She tells the Journal and Courier that Subaru hopes to receive additional shipments of critical auto parts within the next few days. Subaru receives the parts by both air and ocean freight from company factories in Japan.
The Lafayette plant employs a total of 3,550 permanent and temporary workers who make the Outback wagon. It is Subaru of America's only North American plant.
Please enable JavaScript to view this content.