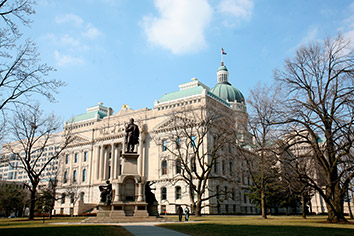 Indiana's Republican leadership is pushing ahead with a proposal that would be the nation's broadest use of school vouchers, allowing even middle-class families to use taxpayer money to send their kids to private schools.
Unlike other systems that are limited to lower-income households, children with special needs or those in failing schools, this one would be open to a much larger pool of students, including those whose parents earn up to $60,000 a year. And within three years, there would be no limit on the number of children who could enroll.
"The goal is to make sure as many kids as possible get choice," said Robert Enlow, president of the Foundation for Educational Choice, an Indianapolis-based advocacy group pushing for school vouchers.
Students receiving vouchers make up less than 1 percent of school enrollment nationwide, but vouchers have been one of the top priorities among conservatives. Indiana's Republican-controlled Legislature hopes to deliver soon on its long-sought overhaul of public education now that Democrats who fled the state have returned.
Democrats in the House stayed in Illinois for five weeks to deprive the chamber of a quorum because they did not have enough votes to stop the voucher proposal and others they oppose. They came back Monday, claiming victory after winning some concessions from the GOP on vouchers and other legislation.
The vouchers are government-issued certificates that can be applied to private tuition, essentially allowing parents to use some of the tax dollars that would normally be sent to public schools at other institutions.
The vouchers do not carry any additional expense for the state because they mainly transfer money between schools. But public-school advocates and many Democrats have long opposed large-scale voucher programs, saying they could siphon tax money from local districts, potentially leading to a steep decline in the quality of education.
"It's a national agenda," said Senate Minority Leader Vi Simpson, a Democrat from Bloomington. "And I think Indiana is the victim of it."
Until now, most voucher programs in the rest of the country have been limited to poor students, those in chronically failing schools or those with special needs.
Indiana's system would be significantly larger, offering money to students from middle-class homes and solid school districts. Though Republicans have agreed to some restrictions — to appease both Democrats and skeptics in their own ranks — the program would still be the most expansive in the United States.
"We fund education for a reason — to give individual children the skills they need to compete in life," said Luke Messer, former executive director of the Indiana Republican Party who now heads School Choice Indiana. "If the money follows the child, parents ought to have the right to put their child in whatever opportunity they think would best serve their family."
Lawmakers in the House are expected to take a key vote on the idea within days. If it passes, the bill would go next to the Senate. Because the GOP controls both chambers and the governor's office, some form of the legislation is likely to pass.
The actual value of the vouchers would be based on a sliding scale and would be less than the amount of tax money a public school would have received for that student. In the case of students in grades 1 through 8, the maximum value would be $4,500.
As originally introduced, Indiana's bill would have provided money to students from families of four making more than $100,000 a year.
The income limits were then lowered to about $80,000, and Republicans on Tuesday reduced them again to about $60,000 for a family of four. Lawmakers also capped the program at 7,500 students for the first year and 15,000 for the second year — a fraction of the state's approximately 1 million students.
By the third year, the caps on the number of participating students would expire.
The limits, which provide a foothold for expansion in years to come, are also intended to ease the minds of Republicans who are wary of an abrupt change or have other concerns.
For instance, state Sen. Brent Steele, a Republican from the small town of Bedford, has raised concerns about tax money being directed to religious schools, saying some Muslim schools teach extremism.
Several states already give certain students money to attend private school if they choose. Voucher programs are available to students in underperforming schools in Ohio, low-income students in Milwaukee and youths with disabilities in Florida, for example.
Momentum for vouchers been building since the 2010 election, which produced major Republican gains in many statehouses across the country. Several new Republican governors are pushing to make vouchers widely available.
Wisconsin Gov. Scott Walker's proposed budget would repeal limits on Milwaukee's voucher program and offer them to any city resident. Florida Gov. Rick Scott and Ohio Gov. John Kasich want to expand their voucher systems, too.
And Pennsylvania Republicans are pushing a voucher bill that would subsidize private school tuition for low-income students, first for those in poorly performing schools but eventually for all low-income children in the state.
Voucher critics have watched the debate with alarm, fearing the potential harm to public schools and perceived threats to the separation of church and state.
"It's a blitzkrieg," said Annie Laurie Gaylor, co-president of Freedom From Religion Foundation based in Madison, Wis. "They're just like drunk with power. This is what we're seeing everywhere. They need to be stopped. Nobody campaigned on 'Let's rob the public schools and give all the money to parochial schools.'"
But some parents are demanding more options beyond public school.
Heather Coffy, a single mother of three in Indianapolis, said her oldest son was struggling in public school when she applied for a private school-choice scholarship. The money she received helped put her three kids in a Catholic school, where she says they are thriving.
"I will do anything possible to give them the education I know they deserve," Coffy said.
Please enable JavaScript to view this content.