It takes guts to name your bar/eatery after a term for failure. It takes more guts to combine furnishings and décor in a way that makes the place feel like it was built in 1981, with unplanned design changes, posters and paintings added in a haphazard way ever since.
All that adds to the gritty charm of The Sinking Ship (4923 N. College Ave., 920-7999).
And while it's likely to turn off non-smokers and survivors of the U.S.S. Indianapolis, anyone else looking for a friendly Broad Ripple drinkery outside the parking meter radius might want to dive in.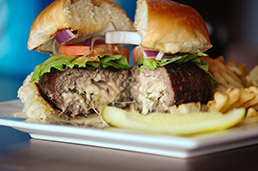 On this ship, you can get your burger stuffed with peppers (above), blue cheese, and more. (IBJ Photo/ Perry Reichanadter)
Amid the corn dog, tater skins and nachos (here, Not'chos) on the appetizer menu, I was intrigued by the Dukboki ($7.50), a plate of Korean rice dumplings in a spicy sauce. Think Asian gnocchi and think twice about ordering if you have any aversion to dishes that kick. Otherwise, enjoy.
The specialty here is the stuffed burger—which, the menu warns, takes some extra cooking time. Worth the wait, I say, after taking on a hand-packed Flamin' Damon ($11). Here, pepper Jack cheese and jalapenos were packed into a 2/3-pound patty, which seemed to modify the heat while flavoring the meat. Other variations include the Blew Damon (with blue cheese and bacon) and the Deutschland Damon (ground corned beef stuffed with sauerkraut and Swiss).
You'd think that the fish sandwich at a place with an oceanic name would impress, but The Whaler ($7.50) was merely an unexciting but sizable plank of pollock. Better were the Buffalo Chips ($5.50 for a full order, $3.25 for a half) in which Buffalo seasonings energized battered and fried potato slices. And I'm sure some will appreciate that Sinking Ship keeps a separate deep fryer for orders from vegetarians.
Another plus: If you've had too many bottles of microbrews (there's a good selection to choose from), you may have less trouble than usual sorting out your tab: All the food prices on the menu already have tax worked in.•
–Lou Harry
__________
First in a month-long series of reviews of restaurants that sound wet—just like spring in Indiana.
Please enable JavaScript to view this content.