If you've already seen "The Gospel According to James," your memory of it may well differ from mine.
That's what happens with memory. The further you go from the moment, the more likely you are to modify it. The way you've talked about it, the elements you've included and omitted, and even the reasons you've had for telling the story factor into its new reality. At least for you.
But, somewhere in history, there is—or was—a truth.
It's an idea that's been addressed creatively in material ranging from Akira Kurosawa's film "Rashomon" to Lerner & Lowe's musical "Gigi" ("Ah, yes, I remember it well"). And it's what playwright Charles Smith wrestles with—sometimes successfully, sometimes not—in his new play, world-premiering at Indiana Repertory Theatre through April 10.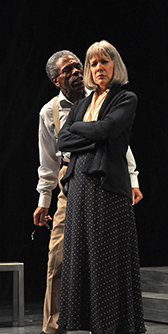 Andre De Shields and Linda Kimbrough face off in "The Gospel According to James" at IRT (Photo Courtesy Indiana Repertory Theatre)
Smith's largely fictional piece is built on a very specific incident. We know beyond a doubt that Thomas Shipp and Abram Smith were lynched by a mob on Aug. 7, 1930, in Marion. We know they were arrested the night before and charged with robbing and murdering Claude Deeter and raping Mary Ball. We know a crowd of citizens broke into the jail and took the men to their deaths.
And we know that James Cameron, then 16 years old and also arrested for the crimes, survived.
Smith imagines a years-later meeting between Cameron—who has dedicated himself to creating a museum to keep the
memory of the incident alive—and Ball, who has been running from the same incident her entire life. He uses this encounter-that-never-was to offer dueling memory stories that differ so drastically they hardly seem like the same incident.
At this stage of the work's development ("Gospel" moves to Chicago's Victory Garden Theatre in May), Smith hasn't defined a clear rulebook for his play. The two main characters feel more like theatrical devices than thinking, breathing people, even when solidly played by stage vets Andre De Shields and Linda Kimbrough.
Complicating matters is that the memories they share often involve scenes not witnessed by either of them (even if some of these scenes are among the most compelling). And, by the second act, it's unclear if we are supposed to be treating these scenes as individual memory, collective memory or objective reality. We even get monologues by the two dead young men.
If Smith is deliberately blurring these memories, it isn't clear why or to what end. And I found it odd, given the dramatic possibilities of the original material, that so much of these flashbacks takes the form of a "Night the Lights Went Out in Georgia"-style potboiler. By the time the should-be gut-wrenching moments do come through (including the inevitable description by James of his near-lynching), it's difficult to separate those realities from the overwhelming amount of fiction going on. The monologue is strong, but it should be overwhelming.
To be clear, I'm not against fictionalizing reality for the stage. Time keeps us from caring much if the Julius Caesar of history is at all similar to the Julius Caesar of Shakespeare. But in a story this recent and this close (real-life Cameron died in 2006 after founding three chapters of the National Association for the Advancement of Colored People, serving as Indiana's state director of the Office of Civil Liberties, and founding Milwaukee's America's Black Holocaust Museum), it seems that the lesser fiction has taken precedence over the real-life drama.
While the playwright is weakest when pushing his themes, he's borderline brilliant in specific character moments. Abetted by an accomplished company, he turns Shipp (Marcus Davis Hendricks) and Smith (Tyler Jacob Rollinson) into credible, complex, playful and dangerous people. They even get some strong laugh lines. Without Smith's adept writing in these scenes, Kelsey Brennan couldn't give as rich a performance as she does as the young Marie/Mary. And his words are the foundation for the stunning work by Christopher Jon Martin and Diane Kondrat as her parents, offering more riveting moment-to-moment truth than I've seen recently on any Indiana stage.
At least, that's how I remember it.
__________
None of the three new plays I saw this year at Actors Theatre of Louisville's Humana Festival of New American Plays has the ambition of "The Gospel According to James." But two managed to effectively show that the well-made, entertaining play is alive and well—and that terrific actors and impeccable design take such plays to a joyfully higher plain.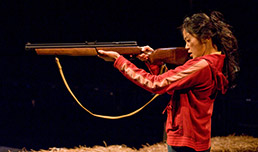 Teresa Avia Lim plays a young girl surviving without parental authority in "Edith Can Shoot Things and Hit Them," which premiered at Lousiville's Humana Festival. (Photo/Actors Theatre of Louisville 2011/Michael Brosilow)
We've seen kids-surviving-on-their-own stories (see, on screen, last year's critic's favorite "Winter's Bone") and we've seen plenty of coming-out tales (see half the plays written in the 1980s). But playwright A. Rey Pamatmat fuses the two genres so beautifully in "Edith Can Shoot Things and Hit Them" that the three-character piece doesn't feel like anything we've seen before.
It helps that his trio are such original creations (and his off-stage characters so well-drawn) that we root for them while never doubting the dangerous realities of the world they live in. It's refreshing to see a play about young people so devoid of cynicism and quirks-for-quirks'-sake while, at the same time, being so willing to have big laughs share the stage with rich emotions.
"Elemeno Pea" by Molly Smith Meltzer is another creation altogether.
The setup: Simone, employed as a personal assistant to a wealthy flake, invites chip-on-her-shoulder older sister Devon to spend a girls' weekend at the home of her new boss, who is supposed to be out of town. For me, the only downside came when the title of the play was lamely explained.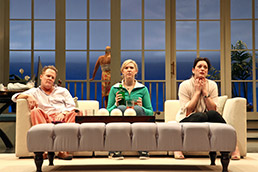 Louisville hosts "Elemeno Pea"(Photo/Actors Theatre of Louisville 2011/Joe Geinert)
Outside of that, Meltzer gives the characters just enough meat—and keeps the resulting actions just unpredictable enough to transcend the show's sitcomy potential. I expect this one to have a long life in regional theaters—if those theaters can risk shining an unflattering light on some of their wealthy patrons.
As to the third play I caught this year at the Humana Festival, Anne Washburn's "A Devil at Noon," I can't really say much because apparently it expanded during rehearsals. That meant that, in order to get to another show on time, I had to leave this trippy show (think "Eternal Sunshine of the Hallucinating Stranger Than Fiction Mind") halfway through the second act. Even after reading the ending, I think it's best for me to leave the published opinions to those who saw it in its entirety.•
__________
This column appears weekly. Send information on upcoming arts and entertainment events to lharry@ibj.com.
Please enable JavaScript to view this content.