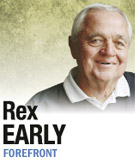 In the blue corner from Evansville, fighting out of the Tea Party gym, undefeated since 2000, is the challenger, Richard Mourdock.
In the red corner from Indianapolis, fighting out of the AARP gym, undefeated since 1972, is the current champion of Indiana—Richard Lugar.
(This will resemble World Extreme Cage Fighting. There will be no Marquess of Queensbury rule.)
Lugar's first foray in the fighting world was the primary race for mayor of Indianapolis in 1967. His opponent was Alex Clark, a former Republican mayor of Indianapolis.
The campaign was no-holds-barred. L. Keith Bulen, the county chairman, ran the Lugar campaign, and a goof named Rex Early ran the Clark campaign.
Bulen promised Lugar, a neophyte, a walk-in-the-park primary, so when the campaign turned negative, we thought Lugar would cut and run. He stayed in, stood up and fought hard, and won the primary by about 3,000 votes.
Mourdock supporters have already thrown the first punches.
According to Tea Party bloggers, Lugar voted to confirm the appointments of liberal U.S. Supreme Court justices Sonia Sotomayor, Elena Kagan and Ruth Bader Ginsburg—all of whom supported legalized abortions and government funding for them. He voted for the START treaty, to ban "assault weapons" in favor of the Brady Bill, and he supported earmark spending.
In addition to these and other votes, he has "lost touch with Hoosiers," is "Obama's favorite Republican," is among the "four most liberal Republican congressmen" and is "too old," and he should have never been in an "Obama" TV spot in the last election.
I get the idea that some of the Tea Party bloggers won't vote for him.
In any event, Mourdock will have an energized Tea Party in his corner as well as many of the party regulars. Mourdock is a great speaker and a tireless worker. Lugar does not want to debate him.
Lugar starts this campaign with an insurmountable lead in name ID. A recent poll showed 94 percent of respondents were aware of Lugar and 66 percent had a favorable opinion of him.
Lugar also will money-whip Mourdock. Lugar has $2.6 million in cash.
There is a question of how much influence the Internet and bloggers have. Can they offset money to get Mourdock's message out?
Lugar also will be talking about his record. He opposed the stimulus bill and cash for clunkers, supported ending TARP, opposed the Democratic Party health care bill, voted against repealing Don't Ask, Don't Tell, and supported President Reagan's positions more than any member of Congress.
He was named Guardian of Small Business, has a 100-percent approval rating from the U.S. Chamber of Commence, scored 100 percent on the National Right to Life score card, was named 2009 "Tax Payer Hero" and scored 100 percent on the 2010 Christian Coalition score card.
Conversely, Lugar scored 9 percent on the American Civil Liberties Union score card, 17 percent on the Planned Parenthood score card, and 15 percent on the Pro Choice Survey.
Most important to the Lugar camp is his experience and leadership in foreign relations. He is vice chairman, and has been chairman, of the Foreign Relations Committee.
Mourdock has no foreign policy experience. Also, the situation with Libya and the unrest in northern Africa play into Lugar's hand.
Lugar could be on the Sunday morning TV circuit (at no cost to him) on lots of occasions.
First of all, Lugar, who has 12 more months before the primary, will head to the right. He will be all over Obama like a cheap suit. (He's already doing this.)
You will read and hear many times that Lugar supported President Reagan's positions more than any other senator, and Reagan wasn't exactly a flaming liberal.
Lugar will also qualify for the frequent flier award as he will be Back Home Again in Indiana on numerous occasions.
I am going to vote for XXXXXXX. I just love primary fights.•
__________
Early served in the Indiana House and as a Republican state chairman, as well as on the Republican National Committee. Send comments on this column to ibjedit@ibj.com.
Please enable JavaScript to view this content.