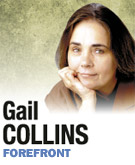 Of all the controversies now raging in Washington, the one I find most endearing is the fight over federal regulation of light bulb efficiency.
"Instead of a leaner, smarter government, we bought a bureaucracy that now tells us which light bulbs to buy," complained Rep. Michele Bachmann in her Tea Party response to the president's State of the Union address.
Bachmann has strong opinions on this matter. She is the author of the Light Bulb Freedom of Choice Act, which would repeal a federal requirement that the typical 100-watt bulb become 25 percent more energy efficient by 2012.
Bachmann hateshateshates that sort of thing, as you would expect from a woman whose Earth Day speech in 2009 was an ode to carbon dioxide. ("It's a part of the regular life cycle of the earth.")
Hysteria over the government taking away our right to buy inefficient light bulbs has been sweeping through certain segments of the Republican Party. Rep. Joe Barton of Texas, sponsor of the Better Use of Light Bulbs Act, says we're about to lose the bulb that "has been turning back the night ever since Thomas Edison ended the era of a world lit only by fire in 1879."
The great thing about this battle, which has spawned predictions of widespread light-bulb-hoarding, is that it will take your mind off Libya, Afghanistan, Iraq and the pending government shutdown. It's a little like the Donald Trump presidential candidacy, only less irritating.
Opponents of the law claim that the newer, more energy-efficient and cost-saving breeds of bulb give a less pleasing light, although that doesn't seem to have dissuaded the American consumers from moving away from the incandescents in droves.
A terribly cynical mind might suspect the whole hubbub was just for political show. Jeff Bingaman, the chairman of the energy committee, said he had not actually been accosted by any of his fellow senators begging him to help get angry light bulb aficionados off their backs.
That was the famous hearing during which Sen. Rand Paul of Kentucky began with a rant about light bulbs and wound up complaining that his toilets back home didn't work.
The crux of Paul's argument came at a different point, when he demanded to know whether Kathleen Hogan, a Department of Energy official, was "pro-choice."
"I'm pro-choice on light bulbs," Hogan said, cannily.
Paul, not to be dissuaded, claimed that Obamaites favored "a woman's right to an abortion, but you don't favor a woman's or a man's right to choose what kind of light bulb."
The proper comparison here would really be between the energy-efficiency regulations and the government rules that set minimum standards for sanitation and medical care when an abortion is performed. If you were willing to overlook the fact that any attempt whatsoever to equate abortions and light bulbs is completely nuts.
It's a classic Tea Party herd of straw horses. Paul managed to lump the light bulb regulations with things his supporters hate (abortions/federal government telling me what to do) while ignoring the fact that the rules are much closer to things they like, such as standards that guarantee that if they go to a hospital or clinic, the place will be clean and staffed by qualified personnel.
Although the Rand Paul crowd is blaming the light bulb regulations on Obama, the rules were actually signed into law in 2007 by George W. Bush. And as Roger A. Pielke Jr., a professor at the University of Colorado, Boulder, wrote in a New York Times op-ed article recently, Washington has been in the standard-setting business since 1894, "when Congress standardized the meaning of what are today common scientific measures, including the ohm, the volt, the watt and the henry, in line with international metrics."
You have to wonder if, back in 1894, there was a general outcry against the federal government trying to tell an American citizen how big his ohm should be.•
__________
Collins is editor of The New York Times editorial page. Send comments on this column to ibjedit@ibj.com.
Please enable JavaScript to view this content.