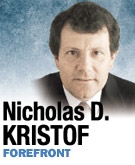 Egypt is a mess.
Nearly two months after street protests inspired a democratic revolution, the transitional military-backed government has proposed—you guessed it—a law banning protests. That's partly because everybody is protesting, even the police. The cops want more money, perhaps because their diminished authority means that they can now extract less in bribes.
With the police out of commission, the army uses thugs to intimidate its critics. And, when it really gets irritated, it arrests and tortures democracy activists.
The Muslim Brotherhood, once banned, has been brought into the power structure. Instead of denouncing the system, it is becoming part of it—and some of its activists are rampaging around Cairo University.
Yet for Americans, what is unfolding is perhaps a reassuring mess. Westerners have mostly worried that Egypt might plunge into Iran-style Islamic fundamentalism. Indeed, it seems increasingly likely that Egypt won't change as much as many expected. Moreover, the biggest losers of the revolution are likely to be violent Islamic extremist groups that lose steam when the more moderate Muslim Brotherhood joins the system.
"There is a determined effort to stop the revolution in its tracks," notes Professor Khaled Fahmy of the American University in Cairo. That's disappointing for democracy activists like him, but reassuring to those who fear upheaval.
Based on my third trip to Cairo since the protests began, here's my guess as to how events unfold:
• Post-revolution Egypt will look a lot like pre-revolution Egypt, but modestly less repressive and with a more powerful civil society. The army will continue to run the show, as it has since 1952 through onetime officers like Hosni Mubarak, and will ensure continuity.
• People will continue to be tortured, but will complain about it more. Peace with Israel will continue, but Egyptian officials will speak up more forcefully about suffering in Gaza.
• The best bet for the next president is Amr Moussa. He's a former foreign minister who has led the Arab League: A veteran politician and pragmatist who would constitute a breath of fresh air but not a gust of it.
• Islamists will play a greater role in society and government, as they do in Turkey. But this will also mean that they are trying to build things rather than blow them up.
Islamic groups are certainly more active than before. Mohammed Alaiwa, a professor of literary criticism at Cairo University, told me that he was in a dean's office recently when a Muslim Brotherhood student burst in, pulled out a pistol and threatened to shoot the dean unless he resigned then and there (the student eventually backed down).
Meanwhile, the up-and-comer Islamists are Salafis, who think the Muslim Brotherhood is far too moderate. A group of Salafis recently attacked a Coptic Christian, apparently accusing him of illicit sexual activity and cutting off his ear.
Yet we have to be realistic: Roads to democracy are always bumpy—and, frankly, I feel pretty good about Egypt. Despite some excesses, the Muslim Brotherhood has been tamed by being brought into the system. It says it won't field a candidate for president and will contest only a bit more than one-third of parliamentary seats. Its website suggests that its aim is "a civil state" rather than "a religious state," and it emphasizes the importance of respect for the Christian minority.
The big loser from the Muslim Brotherhood's rise is probably its enemy, al-Qaida, which wasn't a part of the democracy protests and always argued that the only path to change was violence.
All in all, Egypt today reminds me of other countries in transitions to democracy—Spain after Franco, South Korea in 1987, Romania or Ukraine in the 1990s, and, most of all, of Indonesia after the ouster of its dictator in 1998.
So, yes, Egypt is messy. A young democracy almost always is. Let's get used to it.•
__________
Kristof is a New York Times columnist. Send comments on this column to ibjedit@ibj.com.
Please enable JavaScript to view this content.